LA CERISE SUR LE GÂTEAU
Present at Maison&Objet Fair
From 07-11 September 2023
HOME ACCESSORIES
Hall 5A — Stands B24 - C23
Everyday objects revisited with dots and humour.
Designed by Anne Hubert, LA CERISE SUR LE GÂTEAU revisits and puts a twist on home textiles. LA CERISE SUR LE GÂTEAU collections shake up home linen and children's bedroom decorations: "Jouy" and "Liberty" prints wake up next to polka dots and neon touches. As attached to the originality of her products as to their quality, Anne Hubert, the designer behind LA CERISE SUR LE GÂTEAU makes its beautiful fabrics in Portugal.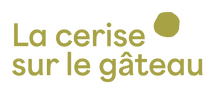 Add
News
24/12/2021 Tablo tea towels

For drying the dishes with a song in your heart, we're hiring new talent: Ray (a gorgeous woven-contrast stripe), Carl (a "check" with a pretty twist), and Pia, printed with two big polka dots in shades that blend (our emblem also likes to mess around!) Available in three new shades (Plum, Pickles and Nuts).

24/12/2021 Our Pia cushion covers!

Our signature polka dot is definitely going its own way! On our Pia cushion covers, reinvented as an oversized blob with organic forms, it's messing around with its mates and trying out new colour fusions. Why not create your own blends by moving them all around the house?

13/12/2021 For the first time on stage… The "City Bag"!

Ultra practical, all beautiful, super tough, and entirely in organic cotton (handles and shoulder strap included), you can stash your stuff, a laptop or a bunch of leeks in it. You can carry it in your hand, over your shoulder or in your bike basket! Inside, you'll find a zipped "surprise pouch" in our Finette striped canvas. A bag that we're so excited about that we've released it in 7 colours.