LA CERISE SUR LE GÂTEAU
Everyday objects revisited with dots and humour.
Designed by Anne Hubert, LA CERISE SUR LE GÂTEAU revisits and puts a twist on home textiles. LA CERISE SUR LE GÂTEAU collections shake up home linen and children's bedroom decorations: "Jouy" and "Liberty" prints wake up next to polka dots and neon touches. As attached to the originality of her products as to their quality, Anne Hubert, the designer behind LA CERISE SUR LE GÂTEAU makes its beautiful fabrics in Portugal.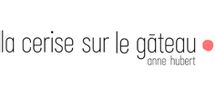 Add
News
11/01/2021 SLEEP WELL !

New this season: Mona, our full bed linen collection made with Oeko-tex cer tified organic hemp. At La Cerise, even if we still adore our beautiful organic percales, we've been thinking of organic hemp as an alternative to cotton for a while now. It's being cultivated again all over Europe, it's a plant that saves resources and regenerates the soil where it grows from.

04/09/2020 GOOD GOODS TOUR !

FROM 4 TO 7 SEPTEMBER We are 20 designer brands that think we are stronger together! Come and visit us to mark the beginning of the season, keep the link and introduce yourself. We look forward to seeing you in Paris for the Good Goods Tour, at OMY 10ème arrondissement, 2 rue Gabriel Laumain.

11/08/2020 CÉLESTE, IS THE ULTIMATE UNI!

Céleste, our new range of bed linen in organic cotton percale, is available in 10 plain colours to brighten up the nights, accompanied by Mona, our new range of coordinated cushions, in 100% organic hemp. Mix them up in the bedroom as well as in the living room.