LA CERISE SUR LE GÂTEAU
Attending MAISON&OBJET
06-10 September 2019
HOME ACCESSORIES Hall 4 — Stands F34
Everyday objects revisited with dots and humour.
Designed by Anne Hubert, LA CERISE SUR LE GÂTEAU revisits and puts a twist on home textiles. LA CERISE SUR LE GÂTEAU collections shake up home linen and children's bedroom decorations: "Jouy" and "Liberty" prints wake up next to polka dots and neon touches. As attached to the originality of her products as to their quality, Anne Hubert, the designer behind LA CERISE SUR LE GÂTEAU makes its beautiful fabrics in Portugal.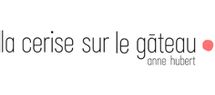 Add to selection
News
16/01/2018 Collaboration | LA CERISE SUR LE GATEAU x MOISMONT

We present you the beach towels created in collaboration with the beautiful brand Moismont, known for its stunning scarves. Dotted ? Checked ? Indigo or Lemon ? It's up to you to choose your summer's next beach companion !

18/09/2017 Fil Vert Prize

La Cerise is proud to be part of the winners of Fil Vert Prize awarded by Maison & Objet for the eco responsible brands.

18/09/2017 10 years anniversary

Since the arrival, the brand has undergone a turning point: more than 160 new references in the catalog, the ranges of household linen are expanding and the colour is honoured. For the occasion, as well as the collection with Mamie Boude at the return, numerous collaborations are featured, SURPRISE! Discover them throughout the year via social media and on the website!