DO NOT USE - EBB & FLOW APS
Our designs embody the truth that lighting and lamps are not just functional objects, rather they alter the space we live in.
EBB & FLOW designs and produces decorative lighting, with all designs created by owner Susanne Nielsen. Using classic British and Nordic style as a starting point combined with a passion for the basic materials glass, crystal, metal and textiles, the result is a style that infuses lighting and glass with a fine airy simplicity and a modern edge and depth of color. All our lighting designs are made to bring warmth and joy, translated through colors and shapes they inspire and offer lasting beauty.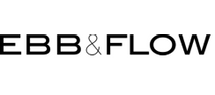 Add to selection