SANDY POUGET / PAPER PULP
Sandy's sculptor's work plays with the rigor of the lines preferring the casualness of the curves in order to imagine works from an Elsewhere with organic accents, in dialogue with our universe to better reinvent it.
Paper is at the heart of the workshop's creation process, inspired by the ancestral technique of paper mache. Metamorphosed, it becomes pulp with great malleability to create free shapes of all dimensions with a chameleon texture that facilitates the realization of many decorative finishes. Paper is winning back all of its spurs , thus confirming its place to the interior decoration.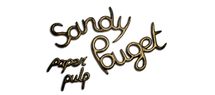 Add to selection