MINTYWENDY
MintyWendy is the reference in France for maternity jewelry, being used by thousands of mothers all around the world with pretty feminine's silicone necklaces, a durable and hygienic material with deep colors.
These breastfeeding, baby carrying and teething jewelries are designed to simplify the daily life of mothers, as they can be caught, pulled and put in the mouth by babies. It is also a playful and sensory accessory for your baby that will develop his motor skills with the pearls. Because of their shape and aesthetics, they are beautiful birth gifts that will please a mother and her baby. With understated lines, pastel shades or bold hues, MintyWendy offers innovative textures and concepts, recasting materials and uses. A must have for the new mother.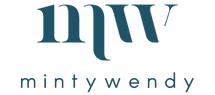 Add
News
02/09/2020 MintyWendy is celebrating it's 5th anniversary

Celebrating its 5th anniversary, this year, MintyWendy, the French maternity brand of nursing, babywearing and teething jewelry, wanted to immortalize its timeless pieces in a natural, soft and authentic setting with a focus on women, highlighting the strength and vulnerability of the postpartum period.

10/01/2019 First time for the french brand MintyWendy, specialised in babyrpoof and waterproof jewellery

With understated lines & innovative textures MintyWendy's jewellery become must-have accessories for mothers, athletes and globetrotters. Geometric bracelets and necklaces become children's toys– and children's toys become design objects, adopting decorative codes to perfectly blend into your décor. The 2019 line summons a solar heat and a wind of freedom, inviting to bathing.