ALBRECHT CREATIVE CONCEPTS GMBH
Producer of blankets, cushions, pouffes, pads and design objects in real fur and fake fur, all products are 100 % handmade and customized in Germany.
"For the ideal interior design, there is no master plan, just a series of tasks whose solutions are as beautiful as they are intelligent." Flexible, changeable and excitingly shaped: classics like the Plastic Armchair by Charles Eames embody pragmatism on the highest level. Thomas Albrecht expands interior design culture into a new dimension and achieves perfect harmony between design and function. A bold vision, an immortal style – and a creative alliance that transcends the boundaries of time, material and space: TAFF touches your heart! All Products are 100 % Handmade in Germany.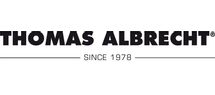 Add