Out to the garden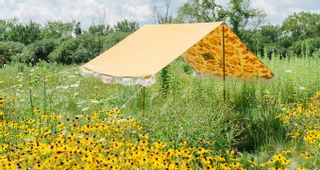 Summer is almost here, so it's time to get outside! Dust off the outdoor furniture, accessories, and children's games, and enjoy! There's nothing better to recharge your batteries than taking a break surrounded by beautiful greenery...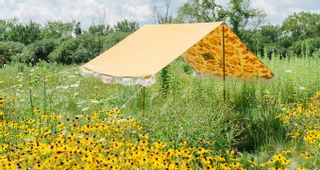 BUSINESS & PLEASURE CO.
PREMIUM TENT
Nos tentes Premium sont fabriquées avec des matériaux de la plus haute qualité et une attention portée aux détails, ce qui garantit qu'elles sont aussi belles que pratiques. Comme tous les produits Business & Pleasure Co., ce n'est pas une tente de plage ordinaire. Chaque tente est facile à assembler, sa toile est résistante aux UV et à l'humidité. Profitez d'une ombre de 6' pour toute la famille lorsqu'il est ouvert, puis emballez - le dans un sac de transport assorti pour transporter facilement vers et depuis la plage.
IL GIARDINO DI CORTEN
Garden furniture and accessories
Schneider, a long-established artisanal craftshop with 150 years'experience in fine metalworking, presents Il Giardino di Corten. This collection of furniture and accessories harmoniously blends a love of nature with new design trends to embody an original concept of open-air life. The collection higlights the evocative style and superior strenght of Corten steel. This is the raw material for a continuously changing range of products: tables, benches, seats, fountains, vases, small accessories or large structures, all developed with leading architects and designers
AIRBORNE
BATYLINE EDEN AA ARMCHAIR
Dans un jardin, sur une terrasse, la simplicité de la ligne du fauteuil AA est intemporelle et indémodable. Airborne a fait appel à la technologie du tissu Batyline Eden de Serge Ferrari pour sa nouvelle collection. Doux au toucher, effet matière naturelle, ce tissu se nettoie simplement avec une brosse douce et de l'eau. Il sèche très rapidement, reste frais, même lors de fortes chaleurs. Il ne vous apportera que satisfactions. Existe en 14 coloris. Vendu avec la structure en acier thermolaqué noir. Pour acheter une housse sans structure, nous contacter par mail.
GOMMAIRE
Easy chair Orso
Easy chair Orso
LES JARDINS DE LA COMTESSE
Rio Toucans collection melamine tableware
Discover our magnificent pure melamine tableware and its\" Rio\" collection. With toucan and parrot designs perched around exotic vegetation, these beautiful melamine cutlery will bring the sun of Rio de Janeiro. It will be perfect in a garden or on a chic terrace. The collection includes: small and large plates (deep and flat), bowl, salad bowl (2 sizes), salad cutlery, rectangular tray (2 sizes), round dish and cake dish. • Complies with food standards • Dishwasher-safe • Not suitable for microwaves and ovens (70°).
LINK
Hoom sun lounger.
Floating puzzle sunbath. The newest addition to the house, Hoom is a puzzle sunbath that can be assembled in minutes to become the companion of your summer relaxation. On the water, around the pool or hidden under a tree for a moment of relaxation, it's up to you to choose what suits you. Available in 5 color combinations. Made in France, in roto-molded polyethylene, it resists UV, salt and chlorinated water.
AFFARI OF SWEDEN
FREJ Scoop
Carefully selected for a unique lifestyle.
WILDLIFE GARDEN
Multiholk - Red Cottage
The Multiholk Red Cottage is both a birdhouse and bird feeder that you convert depending on the season. In the spring, the little red house acts as accommodation for nesting garden birds. In the autumn, you convert it into a feeder in just a few easy steps. This dual-function lets you enjoy the Multiholk year-round, much to the delight of your feathery garden friends.
QUOTE COPENHAGEN APS
Sari Mattresses -(120*45, 140*45)
All the mattresses from Quote Copenhagen are handpicked in the Rajasthan region of India and produced of upcycled saris, which is why every single mattress has its own unique expression. The mattresses have natural fiber filling, black cotton fabric on the bag, They are perfect for both benches, bamboo chairs, loungers and more, and you can always mix and match it with our beautiful sari cushions. Dogs and cats love them, which makes them a great and sustainable dog bed. Price varies depending on size
AUTHENTAGE LIGHTING
NEW! Outdoor lighting ALB GARDEN POLE
Manufactured in brass combined with alabaster, handcrafted and possible to have it customized to meet your needs. Corrosion resistant
QUUT TOYS
Quut - Dippy Cherry
Turn your garden or patio into a fun-filled oasis (for the entire family) with Quut Dippy. Its stylish colors and prints are reminiscent of lazy days by the pool in a tropical paradise. Thanks to the vivid graphics of aquatic life on the bottom of the pool, you can imagine to explore the deep ocean. Fill the pool with water for some serious splishing and splashing and cooling off on warm summer days. Whether you're planning a play date, a staycation, or a cosy weekend with the family, the Quut Pool will turn your backyard into the ultimate summer family retreat.
IB LAURSEN
DELETE
The elegant table lamps 'Kairo' with lamp base made of handblown glass spread a cosy and relaxed atmosphere. The clear glass of the lamp base with an uneven surface gives the lamp a light and unique expression, while the braided lampshade spreads the light in a wonderful way.