Burnt wood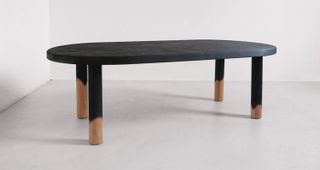 It's called Yakisugi or Shou Sugi Ban…Burnt wood adds amazing texture to all the objects and furniture it adorns with its black coat. It's a stylistic effect that's both alluring and elegant...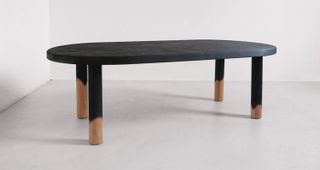 JOE SAYEGH PARIS
MINIMAL stools - Shougi (burnt wood)
Collections of massive arched stools. Shougi finish (burnt wood)
CLAIRE MAZUREL
BLACK MOON wall lamp
Spherical wall lamp made of burnt wood. Large spherical sconce (diam 75cm) in burnt wood The texture of burnt wood (Japanese technique of shou sugi ban) is visible when the lamp is switched off and sublimated when it is switched on. E27 bulb with golden cap supplied.
BELGIUM IS DESIGN
Robin Berrewaerts - SP01 - Side table
Robin Berrewaerts works and lives in Brussels, Belgium. He graduated as a interior designer at the LUCA School of Arts in Brussels followed by a postgraduate in furniture design at the Thomas More School in Mechelen. This black side table is hand-sculpted with manual tools and made of reclaimed oak with an oil finish. The aim for this object is to explore the manipulation of wood without losing the truth to the material and to keep its full three-dimensionality of form. Each chisel stroke is applied by hand and helps to reinforce the distinct character of the original tree.
BROOKLYN CANDLE STUDIO
Woodsmoke Gold Travel Candle
Imagine the comfort of a cozy cabin, cocooned in a worn, soft blanket, a crackling fire wrapping everything in a snug layer of warmth. Our Woodsmoke candle is the quintessential mini-fireplace — complete with the steady, calming flicker of a flame and the smoky, rich aroma of burning wood. Light this candle and notice notes of cedar leaf, labdanum, incense, and leather rounding out a rich smokiness.
DBAY EBENISTE PYROMANE
YAKISUGI CONSOLE
Console with sober lines in burnt wood. Perfect for a minimalist and characterful universe. Designed by Dave BAYONNE Made in France
ADJAO
L'Arbre lumière Yakisugi Floor Lamp
L'Arbre lumière Yakisugi floor lamp made of burnt wood, from the Yakisugi collection is a unique piece, with a singular character that brings a truly original touch to the interior decoration. The lampshade is designed by hand, in washi: handmade Japanese paper, traced or not with Indian ink or colored inks, according to your wishes. Check out our design workshop: https://www.youtube.com/watch?v=8IqtGTY9wYY (subtitles available)
METAPOLY
Yaki Coffee Table
Yaki est le produit d'une rencontre singulière entre un matériau très présent en France, le hêtre, et une technique japonaise écologique appelée Yakisugi. En effet, la dualité qui s'opère entre bois brut et bois carbonisé produit un contraste sensible fort. Les oppositions qui s'expriment au travers des teintes, des formes et des textures font alors de Yaki le propre témoin de ses inspirations métissées. Chaque pièce est enduite d'huile de lin de manière à restreindre l'empreinte écologique de Yaki tout en garantissant sa durabilité. Production à la demande(6 semaines).
CERAMICHE REFIN
Kasai Wood
Kasai, "fire", is inspired by the Shou Sugi Ban or Yakisugi, a traditional Japanese craft technique, where wood is worked by burning, namely by charring mainly cedar wood to protect and preserve it. The collection pays tribute to Japanese culture by translating on porcelain stoneware the same visual and tactile characteristics obtained on the blades: refined and elegant, this collection celebrates the meeting between different worlds, combining tradition and innovation. Kasai is available in 25×150 format in Carta, Fumo or Notte tones.
LUCIE DELMAS SCULPTURE
Black Sea Eagle
Sculpture in black granite and burned wood. The contrast of the matter highlights the power of the subject and its fluidity. Possibility of custom order.
ATMOSPHÈRE D'AILLEURS
Organic charred wood coffee tables
One-of-a-kind coffee tables made of hand charred exotic wood (kaduma, teak, suar, suryan, walang or lychee wood) with natural edges.
ARANGO
Burnt wood ring 60cm
Sculpture lumineuse en bois brûlé et verre transparent. Brûlé au feu, pour un noir texturé profond. Pièce unique, signée.
BIJIN
Binchotan charcoal Japanese natural water filter
The authentic Japanese Binchotan Ubame-Kishu from Wakayama. The binchotan stick purifies running water by reducing the bad taste and odor of chlorine as well as the residues of pollutants still present in running water. 1 stick filters 1 liter of tap water. Binchotan, Ubame oak charcoal, is native to Kishu province (Wakayama) in Japan. It has the particularity of being very fibrous and is still produced according to ancestral know-how. Its whitish surface is a guarantee of quality and authenticity. SIZES: S 2cm x 7cm M 2cm X 10cm L 1 cm X 14 cm approximately