A festive ambiance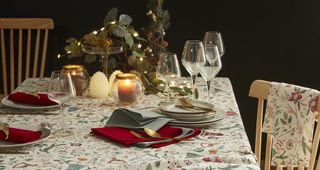 The year-end festive season deserves to be beautiful, and, therefore, must be planned for! Pretty tablecloths, beautiful plates, chic decorative objects, gourmet products, home fragrances, lighting effects... Set off today on your search for new products that will make your customers' eyes shine and tempt all their senses!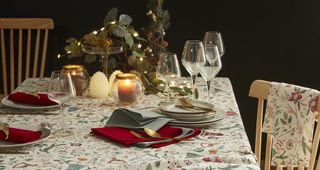 LEONARDO
Presente PB/2 Champagne 280 ml Celebrate
What can be more wonderful than making a loved one smile? How about a goodie jar for a dear colleague, a message in a bottle for your best friend or a sculptured heart for your partner? At Leonardo you will not only find a special gift for that special someone, but also for every occasion! Lovingly decorated, these tokens of affection are just waiting to become that perfect gift.
FLECK
Wabi Brass Cutlery Set
Wabi flatware collection embraces the natural expression of the understated elegance of everything imperfect. Made with pure brass, these forks feature the anomalies that arise from the process of casting and add uniqueness to each one of them. Dimensions:Servers: 26.5 x 7 cmsDessert (Spoons & Forks): 10.5 x 2 cmsCoffee Spoons: 10 x 1.5 cmsDinner (Spoons, Forks & Knives): 14 x 2.5 cmsSoup Spoons: 18 x 4 cms Material:Brass
AIGREDOUX
Aldabra table linen
Aldabra table linen is available in natural or white colors. In all simplicity, it will sublimate your table. The elegance and refinement of this tablecloth and its matching napkins will take place on your table.
LA MAISON ARTYFETES
Mixed End of Year Festivities (Tradi Chic, Sparkling Moment, Nutcracker)
Everything you need for a happy holiday season is here! A mix between the sparkling Instant Universe for the new year, Tradi Chic for a traditional Christmas or the Nutcracker universe.
JAMIDA OF SWEDEN
Santa with Accordion - Trays - coasters - Serving tray
Trays, handcrafted on the Swedish island of Öland using Scandinavian birch wood certified by the Forest Stewardship Council (FSC). Dishwasher safe. Tablemats/Placemats Gloss finish & cork base 4.8mm thick eucalyptus board Protective melamine coating Heat resistant to 160℃. The Santa with Accordion collection is available as Trays
PRADEL EXCELLENCE & ALBERT DE THIERS - JODAS
UTENSILS - SEAFOOD PLATTER
Pradel Excellence offers you this seafood platter and its base, ideal for your holiday tastings or your stays on board.
LUXURY SPARKLE
Jean-Michel Bouchet & Filles Brut Rosé Luxury Scented Candle
The Jean-Michel Bouchet & Filles Brut Rosé Luxury Scented Candle is made from an original Champagne bottle and label in partnership with Champagne Jean-Michel Bouchet & Filles. Based in Sarcy, in the heart of the Champagne region, surrounded by green rolling hills covered in dreamy champagne vines. This luxury scented candle will fill your space with a beautiful and exclusive fragrance and create a wonderful ambience. Handmade and poured in Grasse, the parfum capital of the world with all natural and luxurious ingredients.
MALIFANCE
OYSTERS
Bowl, Plate, Dish, the oyster shell is made of porcelain and stoneware from French quarries. Designed for chefs, it is oven and dishwasher resistant. As a cup, it can be used to place jewellery or other precious items in your eyes. Here we find the idea of the pearl oyster.
AQUATISAN
Cake Stand Three-Tier
Elegantly display desserts, petit-fours, cookies, cakes, tea sandwiches, scones, or any other aperitif with our Luxury Tea Stand Three-Tier adding the perfect combination of contemporary elegance and spectacle to any tablescape. Made from SUS304 18-8 Japan's highest-standard stainless steel with a stone polish finish. It provides a space-saving solution for stacking dinner plates or displaying buffet items. Two sizes are available. • Food-Safe • Dishwasher-Safe • 100% Handmade by Japanese Artisans • Made in Japan
LIFE OF RILEY
Nickel Champagne Cooler
To chill your favourite drink at the table or when dining outside. Ideal gift to mark a special birthday or anniversary. Part of our extensive barware range.
COUCKE
Christmas / Tablecloth
This tablecloth Christmas, in linen, presents, in white tones, elements reminiscent of Christmas. 100% linen tablecloth, print. Machine washable at 60°C. White color. Sizes 180 × 180 cm, 160 x 240 cm, 180 x 300 cm.
AMADEUS
Christmas table - tableware "Heidi"
Christmas table - tableware "Heidi"