Warm and cosy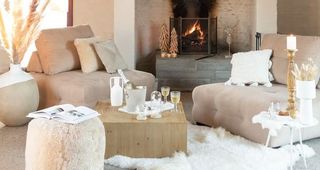 Offer your customers cozy interiors for long winter days! Cozy cocooning furniture, soothing decor, fireplaces all aglow... and don't forget the textile items to protect them beautifully from the cold...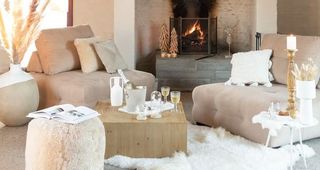 DIGITAL DAYS PREPARE NOW FOR THE YEAR-END | 20 - 26 JUNE 2022
53% of you have been impacted by longer supply lead times, a trend that reaffirms the need for everyone to plan well in advance for final-quarter orders.
Don't be caught unawares: source these items now on MOM!
DIGITAL DAYS PREPARE NOW FOR THE YEAR-END | 20 - 26 JUNE 2022
53% of you have been impacted by longer supply lead times, a trend that reaffirms the need for everyone to plan well in advance for final-quarter orders.
Don't be caught unawares: source these items now on MOM!
SO SKIN - IDASY
HOMY LINEN SOFA
HOMY LINEN SOFA
EN FIL D'INDIENNE...
BOHO Cotton Velvet Blanket 140x250 cm, Linen Fringes
A cotton velour plaid, hand-stitched, with a natural cotton veil backing. A big bohemian plus: delicate natural linen fringes on the short sides. Emma Bovary or La Dame aux Camélias are not far away. We would like to take it everywhere, from his romantic bedroom to his opera room. Eternal crush. Boho is available in 30x45cm, 35x50cm cushions, 50x75cm pillowcases, 140x250cm throws, 240x250cm bedspreads, 140x300cm curtains and bags.
&ATELIER COSTÀ
Let's prepare for winter with handmade slippers made of pure wool
DOLLY slippers are handmade, one by one in pure wool on a jute sole with a thick foam layer under the first, for the comfort of your feet. They are made in Spain with national wool from sheep shearing. A comfortable and eco-responsible quality product. Dolly will keep your feet warm during the winter. We have other slippers to choose from. We offer this item all year round on request.
ELISA ATHENIENSE HOME
Chamonix Throw blanket
The Chamonix Throw is part of the Mountain Lodge collection of Elisa Atheniense Home. All pieces are made using sheepskin leather and designed to give the cosiness winter feel that any chalet or lodge need. Available in different styles, and products such as cushions, rugs, and blankets, throws. Bespoke colours are available under special. Measurements: 130 cm x 70 cm 150 cm x 90 cm 220 cm x 90 cm
MENZA
Milano Cushion Orange Pattern Big 45
The Milano Cushion collection, inspired from the Italian fashion city, and totally trendy must-have item. This cushion is available in 3 sizes and 17 colors or prints.
COCOON PARIS
Wool and cashmere blankets, wool and cashmere blankets.
Plaids woven by hand using traditional Nepalese weaving and spinning methods. Made of wool and cashmere. Cashmere comes from native goats in the Himalayas called "Chyangra" raised at over 3000 meters and renowned the world over for the quality of their wool.Extremely comfortable, these plaids will envelop you in their softness.On a bed or sofa, they will perfectly harmonize with your interior.
CO33 EXKLUSIVE BETONMÖBEL
TABULA IGNIS Concrete Lounge Table with or without Fireplace
TABULA IGNIS is the perfect concrete table for relaxing hours in the glow of firelight. The robust plate of this exceptional table from the brand CO33 is made of normal concrete and has a stainless steel fireplace insert, which functions with ethanol. The table can be easily moved to the desired position by means of a mobile undercarriage. The ethanol fireplace contains approx. 1,6 l of ethanol, is removable, closable and leak-proof and can be replaced by a stainless steel plate, which is included in the delivery. It can be used both indoor and outdoor.
LALIDE A PARIS
Velvet pyjamas "Claire"
Jacket and Indoor Pants Set terry velvet blue/grey Manufacture near Porto in Portugal.
LASKASAS
Sophia Armchair with Ottoman
Sophia is a glamorous and elegant armchair that creates a welcoming and relaxing atmosphere in modern sets. The matching ottoman complements it perfectly. Armchair: 79x84x87.5cm Ottoman: 72.5x70x42 cm
WHOLE
Aquarelle wool cushion
WIMI is a large bi-material cushion with one side in French virgin wool in a gradient dye and one side in ecru natural organic cotton or linen. !! ALL CUSHIONS ARE UNIQUE!! They are sometimes made in series of 2 or 3 in the same bath, so you can make pretty pairs. Size 40 X 60 cm Zipped and therefore removable Wash: in a cold machine (wool or delicate cycle), dry naturally flat, iron gently inside out French manufacture and dyeing in the workshop.
BHDECOR
Portable eco-friendly fireplace, tabletop décor, personalized décor
Un brûleur au bioéthanol de forme carrée est une pièce unique de votre décoration intérieure. Cette installation de décoration est respectueuse de l'environnement, le feu n'émet ni fumée, ni odeur, ni cendres.Ce superbe brûleur à feu véritable est adapté pour une utilisation en intérieur et en extérieur. Un brûleur à feu portable s'adaptera à tous les types de décoration intérieure et extérieure et apportera une touche unique à celui-ci.Ce petit foyer bio écologique est un cadeau parfait pour les mariages, les anniversaires, les anniversaires ou Noël.
J-LINE BY JOLIPA
Nordic Retreat
Imagine a beautiful winter landscape. You in a comfy jumper, by the fireplace, with a cosy woollen blanket enjoying a cup of steaming tea. This is what you can expect from the "Nordic Retreat" collection by J-line. A feeling of cocooning and cosiness in an environment that radiates nothing but beauty. No typical classical surroundings, but an interior with a trendy twist that always pays attention to and respects natural materials. Hello cold days!