In vino veritas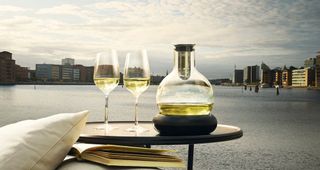 White, red, or rosé? Give in to temptation, in moderation, with this gentle libation that symbolizes celebration as much as the simple pleasure of sharing special moments with friends.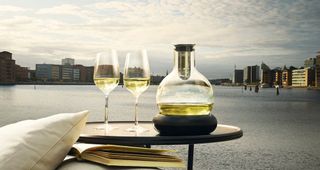 EVA SOLO
Decanter carafe 0.75l
The decanter carafe brings out the best in the wine. When wine is poured into the carafe, it runs through small holes in the integrated funnel and down the inside walls of the carafe. This oxygenates the wine gently, effectively – and beautifully. Also, the large surface of the carafe further contributes to the oxygenation process. The decanter carafe holds a bottle of wine and is 100% drip-free. Available with or without a cooling element.
ATELIER LANDON
Liquor cabinet Emile 1
Buffet/ wine bar in Wengue veneer. Brass structure. Available in Walnut or Oak.
BAMBOODOM
BAMBOO COOLER _ TOWA (BC-TWN)
BAMBOO COOLER is made of fire-roasted and dried Japanese bamboo, and has a beautiful surface. The design of this product uses the shape of bamboo as it is, creating heat on the table. You insert a pre-chilled bottle into the BAMBOO COOLER and use it. You can enjoy a very gradual temperature change due to the characteristics of bamboo and insulation sheet.
FISURA
Drinks Accessories
Discover our fun home and decoration products. When you need to make a gift think of FISURA. Originality and unique designs characterize us. Other kitchen products available in our shop. FISURA
METROCS
SORI YANAGI - punched strainer with handle
Simple and timeless designSori Yanagi's stainless steel bowl is a simple and easy-to-use product based on his long-term research.The full size can be used for various purposes, so it is a satisfying set and suitable as a gift.The punching strainer has a cross-sectional shape with less contact surface and is designed for good drainage. The size is set so that it can be used in combination with a stainless steel ball.The material is made of 18-8 stainless steel plate with punching process.
ZANCHI 1952
Extractable Corkscrew and Wine Stopper | Natural Horn
Wine set consisting of stainless steel wine stopper (135 mm) and corkscrew (125 mm) with steel spiral spiral and oval handcrafted natural horn
LAURENCE BRABANT EDITIONS
Entracte , festive bottle stopper.
Festive stopper for any standard 75cl opened bottle of wine. No hermetic capping. It is a question of valuing a bottle of wine placed on a table but also of preventing insects from falling into it, outside in summer for example. Handmade in our glass studio. Borosilicate glass.
ALESSI
Industrial craftsmanship - Alessi collection 100 values
Twergi Collection - CORKSCREWS A masterful play of colored volumes that gives rise to a tool perfectly adapted to its function. The corkscrew according to Ettore Sottsass is, like all his other achievements for Alessi, both effective and captivating.
GIOBAGNARA
SUPERTUSCAN WINE BOTTLE HOLDER
Leather-covered wood structure. Ideal for both standard and magnum sized wine bottles. Other than being a great display for one's wine, this article works perfectly as a decanter: as it more than doubles the surface in contact with air of the wine inside the bottle, it favors its oxygenation, allowing it to breathe and to trigger the release of more aromatic compounds. Custom sizes available on request.
AUBRY GASPARD
Spruce Bottle Rack
Honey wax spruce bottle rack for storing 12 bottles. Play the build-up by creating your wall set with multiple bottle racks. Display, store and enhance your beautiful wine bottle collection. Bin Size: 40cm x 25cm x 40cm
L'AVANT GARDISTE
Wine glass to show your mood
We're all allowed to be a little quiet sometimes, so show your mood right now with this wine glass. Because a large glass of delicious wine can repair many sorrows (be careful not to force too much on the bottle, right?).3 graduations: Good Day, Bad Day, Don't AskMaterial: glassCapacity: 560 mlOnly at l'Avant Gardiste
CRISTALLERIE MÅLERÅS - PAR ACE CONSEILS & TRADING FRANCE
MASQ - Tableware - crystal champagne glasses
One liter decanter in crystal dyed black with reflections, one represents the woman and the other the man. Very original and typical crystal design. Crystal glasses for champagne and women's wine (Electra) and masculine (Kubik) tinted black and transparent.