Suspended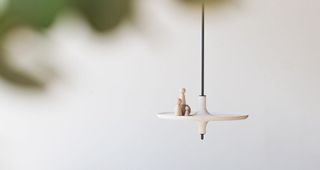 "Oh time, suspend your flight...", said Lamartine...Playing with balance, the impression of floating in the decorative world is rather magical and enchanting. It offers a touch of poetry that makes us forget everyday life...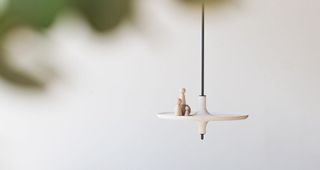 GREEN MOOD
Ring
It is a visual and acoustic element suspended within an interior space. It's a play between a full-bodied element and a hollow one – fullness and lightness – both framed within the same outer rim. Constructed of metal, Ring hangs from the ceiling and can be placed above tables or in large open spaces, such as corporate lobbies. It can hang alone or as part of a series.
N.LOBJOY
Pendant lamp Jupette
Light and delicate, the Jupette pendant lamp made of eco-friendly certified paper is made entirely by hand, each one is unique. For its protection and durability, the luminaire receives 3 layers of varnish
MADEMOISELLE JO
Spinning top shelf TOUPY - Travertine stone
Spinning top shelf, travertine stone.With the shape of a top, TOUPY is a futuristic shelf. Its round shape thins the space and adds a sober and elegant touch to any interior. Spinning top in travertine stone worked in the tower. Hanging bar in mate black lacquered solid metal.Ceiling hook, standard height 150 cm from the ceiling.Basic extensions of 100 cm, 30 cm and 10 cm. 3 black screws and 3 pegs. Dia. tray: 38 cm We can respond to specific requests, please feel free to contact us.
DE BEJARRY INTERNATIONAL
KHEOPS Console
Triangle shape structure made of 201 stainless steel: sturdy and not susceptible to corrosion. Top and drawer in rubber wood varnished plywood in a walnut tint. Including a hanging storage drawer with opening by straight polished stainless steel handles. Inverted triangle base in stainless steel
DEDAL
Snuro Shelves
The modular shelves adaptable to any space A modern, cork-made, suspended shelving system originally designed for your planters to be arranged in every room. Use it to grow your own veggies and herbs or just to bring some of nature's cheerful colours inside. You can also use Snuro to keep your favourite books, CDs or other homeware! Available in four references and can be personalized according to customer needs.
DAMIANO LATINI
Hang kitchen racks system
Hang kitchen racks system is fixed to the cabinet base and suspended over the worktop. Thanks to its innovative concept Hang was awarded with Good Design Award 2020 and Archiproducts Design Award 2020. Hang is available in multiple sizes: L 60/90/ 60+60/90+90 cm and 2 finishing: black or titanium. Hang is customisable with many accessories: kitchen roll holder, shelves, wooden knife block, wooden chopping board, hooks. Hang is available with LED lighting integrated.
MIFUKO
Hanging baskets
Les paniers suspendus Mifuko sont des pots de fleurs tendance pour l'intérieur ou l'extérieur ou peuvent être portés en bandoulière.Disponible en deux tailles et 3 matériaux. La sangle en cuir solide peut facilement contenir une plante lourde.Matériaux : sisal/papier brun écru/plastique recyclé Tailles : XS : Ø 15 cm, H 16 cm/S : Ø 24 cm, H 21 cm/ lanière en cuir 115 cm
LOU DE CASTELLANE
Hanging garden - LOU DE CASTELLANE - artificial plants and flowers
Lou de Castellane's Spring-Summer 2022 collection revolves around two decorative axes. The first, in pastel shades, offers a wide range of flowers, vases and accessories. A sparkling atmosphere that invites you to enjoy a bucolic parenthesis. Then, we find a whole 'Terra Cotta' collection, with the idea of a patio in the city where plants are an integral part of our interior. Discover our assortment, where many varieties and color ranges will seduce you,
MOLO
float · teaware
Light, aroma and warmth shape a gathering space around float tea lantern, the hearth of molo's thermally-resistant borosilicate glass collection. The tealight candle burning below keeps beverages hot for hours and emits warm, ambient light as it passes through the suspended liquid. Paired with float tea cups and cream + sugar, the lantern rekindles the sensory ritual of enjoying and sharing tea. A matcha bowl offers the perfect vessel in which to whisk the frothy Japanese beverage. Each piece of float glassware is crafted by master glassblowers in the Czech Republic.
SNOC OUTDOOR FURNITURE
Ralph-Noche Dining Table
Ralph Collection consists of a lounge set, dining set, chaise lounge and coffee tables designed with Teak wood and acrylic rope details that gracefully express a unique synthesis of aesthetics, functionality and ergonomics. The Ralph Collection, which has turned into an iconic design, provides integrity in the perception of visual flow with framed design details, strong thick lines.
EVA SOLO
Hanging wine rack Nordic kitchen
Good wine deserves unique storage. In the hanging wine rack, the wine bottles are presented in a decorative and eye-catching way, with the bottles sitting securely at a slight angle from the wall so the labels are easy to read. Use the rack on its own, or combine two or more racks to create an entire wine wall. The rack is robust, yet simple, and takes up a minimum of space. Screws are not included. The rack is easy to clean with a damp cloth.
VALERIE OBJECTS
Hanging lamps by Muller Van Severen
Although most design lovers know Muller Van Severen for their furniture, the design couple's story actually kicked off with the conception of these hanging lamps. "It all started out of necessity." Hannes explains. "We were working in our new home which is an old house. A socket in the ceiling above the table was missing to plug in a light source, so we designed a lamp that could hang from the wall." Like all Muller Van Severen's furniture, the hanging lamps add a sober but colorful line to the interior.