All white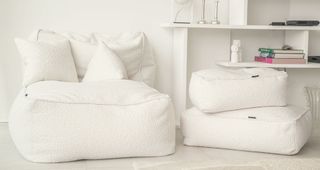 We love white for its purity, minimalism, chic, and versatility, too…White is a poem in itself. Let's dive right into a selection that's as light as a feather and soft as downy cotton.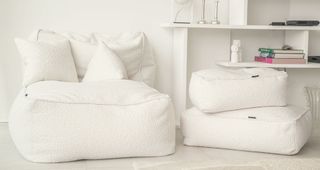 STUDIO RO SMIT
Tableware Collection
In Nepal, Ro Smit works with a former pottery community that always works by hand on turntables in a traditional way. Based on their qualities, Ro Smit has developed a tableware that also meets the current requirements, it can be used in the oven, microwave and dishwasher. This new influence gives a new life to a centuries-old craft and new potters are trained to pass the craft on to a new generation. This is an excellent example of Ro Smit his mission statement "Ethics Equals Aesthetics".
CRUSO
PADDLE Chair White
The PADDLE chair is inspired by the soft and round shapes of paddle blades. With its original and resistant structure, this chair is a nice addition to cosy homes as well as demanding environments, such as cafés, restaurants and hotels.
MANUFACTURE XXI
Luo sofa end - LUO02
Luo modules can be used alone or can be assembled in large installations.This monolithic look sofa end is achieved thanks to a simple assembly of modules. Designed in 100% mineral mortar, Luo sofa ends are created and manufactured by our collective of designers and craftsmen in Dijon (FRANCE).
MIKMAX BARCELONA
DECORATIVE LINEN CUSHION DOT 45
Decorative linen cushion. Filling included. Composition: 100% linen Stonewashed Round 45 cm. Available in 2 coulours: Port and Salats
NEO-TAIWANESE CRAFTSMANSHIP
Sake glass pot set
Created using 3D printing technique, the work includes four unique sets of sake bottles. The outlines of the bottles are formed by five different cross-sections and printed with random cloud patterns.
MX HOME
Pouf XL floating white shell
Fait à la main en France, à St Tropez avec des matériaux recyclés ou recyclables. Déclinable en deux coloris : blanc crème ou turquoise. Sa forme estivale, vous plongera dans notre univers marin. Les poufs MX Home apporteront un réel cachet à votre décoration. Couleur ultra résistante, Insubmersible, résistant au sel, au chlore, aux UV, aux moisissures, aux frottements, anti tâches, hypoallergénique, sans produits toxiques pour le corps et l'environnement. Existe également en coussin taille S
CONCEPT VERRE
Casamance - Pendant light
The Casamance range features bright white glasses trapped in a brushed brass cage.
ALESSI
Plissé Electric kettle
Electric kettle in thermoplastic resin. cl 170 Designed by Michele De Lucchi and made of thermoplastic resin, the Plissé kettle combines functional aspects with a plastic and fascinating design that reveals the creator's architectural background, as well as his passion for the handicraft and for sculpture. Like a dress sculpted by a fashion designer, this kettle is a beautiful object to be left on display on your kitchen top.
MADEMOISELLE JO
SIMPLY shelf - White with mirror
SIMPLY shelves are made of folded metal. They include different magnetic elements that can be modulated according to one's desires. Thin and light, they attach easily to any type of support.The shelf is available with or without a mirror.We can respond to specific requests, do not hesitate to contact us.
PASCALE RISBOURG
SPIRIT Wallpaper
SPIRIT is an original creation by Pascale Risbourg. Available in 20 colors Each decor is a digital print on high quality Matte Non-woven paper 147 grs/m2 of M1. classification printed in France and Belgium. We print to order "custom-made". Manufacturing times are from 7 to 10 working days. An installation instruction accompanies each of your orders.
ATMOSPHÈRE D'AILLEURS
Silex luminous sculptures
Silex is designed by Céline Wright for Atmosphère d'Ailleurs. This collaboration is an obvious meeting of two universes inspired by Asia, the love of handmade, the beautiful... Made of six superimposed layers of washi paper, i.e. 260 strips glued by hand in the shape of diamonds, Silex is available in 3 models: vertical pendant weighted by a stone, mobile pendant and floor lamp.
MADEMOISELLE JO
Stem vase SOLIFLORE - White
The pure lines of the stem vase in turned & powdered white metal, magnetic at the bottom, make it a challenging object that transcends time… It proudly rises up on the YOUMY table to become one. Useful and pure, it puts a touch of poetry in the house.Height hollow tubes : 15 cm & 10 cm. Diameter tube : 2,5 cm.Diameter tray with EVA foam : 8,5 cm A white-coloured powdered metal tray with EVA foam.The collection is composed of three versions: - White powdered metal - Turned brass - Black anodized powdered metal We can respond to specific requests, do not hesitate to contact us.