Gesa Hansen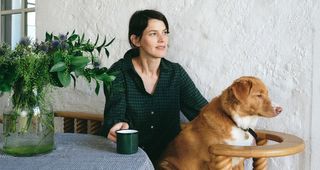 Gesa Hansen is a German and Danish designer, lover of simple lines and natural materials. She took on several projectsprojects: the Le Mont Saint-Michel fashion boutique in Paris, the La Hune bookshop/gallery, Marina Foïs' apartment, and the Café Compagnon… Highly concerned with environmental issues, she is now working on a hotel in Chamonix, expected in 2023.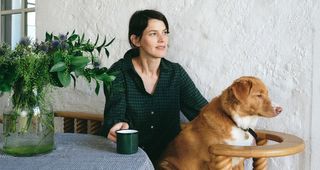 STONED
The Travertine Collection
Notre amour pour la pierre naturelle va au-delà du marbre. TREVOR est une collection de nos modèles les plus populaires en travertin tendance ! Le travertin est une pierre de caractère avec des textures naturelles et des irrégularités étonnantes qui rendent chaque pièce unique. Il ajoute de la chaleur et du confort à chaque espace de vie.
HOMATA
Black Arty
The flagship and timeless collection of our catalogue, Arty tableware is one of Homata's timeless dishes. You will be seduced by its large formats, its solidity and practicity every day. Microwave and dishwasher-friendly
KANN
Chair Tal
The Tal chair designed by Léonard Kadid is made of aluminium and wood. The T aluminium profiles reinforce the plywood seat and allow the solid wooden legs to lock on them. This structural principle defines its entire geometry giving a radical yet subtle presence. Easy to assemble, the chair is flat packed.
PIERRE FREY
Upholstery Fabric Poseidon
This drawing of mermaids illustrates with onirism the aquatic world and its deities. Printed on cotton, POSEIDON is a reproduction of a gouache by textile designer Irène Rohr dated 1945 and kept in the archives of Maison Pierre Frey.
EDITION VAN TREECK
Pastille - Side Table
Pastille / Side Tables by Sebastian Herkner are suspended drops of coloured glass which found their inspiration in the par ticularity of the glass fusing technique. Through the process the perfectly cut glass circles are transformed: their contours get blurred, the clear and strong colours become delicate shades. Melting into each other, new colours are created. The slightly coloured shadows left on the floor keep revealing the crafts-manship behind the object. Fused glass / nickel-plated metal structure / 3 colour combinations / 3 sizes / 36 x 36 x 48 cm / 55 x 46 x 34 cm / 63 x 63 x 42 cm
BROSTE COPENHAGEN A/S
MAGGIE SHELFS
• \ La petite étagère présente un design élégant et fin avec deux étagères, offrant un double espace de présentation pour les tasses, les verres et les petits objets• \ tConçue pour optimiser l'espace, l'étagère à deux niveaux est une excellente solution peu encombrante qui permet de libérer le comptoir ou l'armoire. \ tUtilisez-la dans divers environnements, comme la cuisine, le bureau ou la chambre à coucher pour une solution de rangement organisée• \ tDisposez deux étagères horizontalement ou verticalement pour un look répété et deux fois plus d'affichage
MODELEC
Raw Steel STB M Flat Button on STB Steel Single Cover Plate
New Collection M. Plate finish: 541 STB steel. Choice of button color: ivory/black/white polycarbonate, brass or STB steel, varnished mirror brass, brushed brass or nickel, brass or sandblasted nickel. Plate format = simple 80x80mm. Available functions = Two-way, Push Button, Roller Shutter, USB, TV Socket, Media (HDMI, RJ45, USB Data, HP), Card Reader...
SEMPRE LIFE
Sun umbrella d.180 cm
sun umbrella d.180 cm
Gesa Hansen, design is in the genes
As the daughter of an industrial designer and granddaughter of an eminent cabinetmaker, this designer was immersed in the design universe from very early on. After her studies at the Bauhaus University of Weimar in Germany, she settled in Paris and got an internship at Jean Nouvel's firm. Afterward, she was hired to stay full-time. At the same time, she launched her first line of "Hansen Family" furniture with a Nordic flavor, which she describes as minimalist, but not pessimist, and it would be recognized with multiple international awards. This lover of simple lines and natural materials - wood, marble, leather - rapidly took on several projects: the Le Mont Saint-Michel fashion boutique in Paris, the new La Hune bookshop/gallery, Marina Foïs' apartment, and the Café Compagnon…and, with the publication of her book "Campagne" (The Countryside), co-authored with Charlotte Huguet and Estelle Marandon, became an icon for urbanites heading for greener pastures and looking to adopt a rustic-chic way of life. Highly concerned with environmental issues, this German and Danish designer is now delighted to be working on a hotel in Chamonix (expected in 2023) and on a range of folk furniture in Douglas fir and larch locally made with wood from sustainably managed forests.
https://gesahansen.com/