Fresh, with a French touch!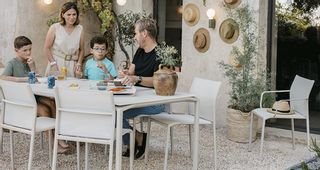 French furniture is breaking the rules of design and creating a hedonistic art of living. This is creativity that invites you to a world of enjoyment, fun times with family and friends, and lots of sharing. Feel good at home, with flair!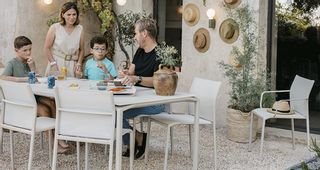 DESIGNERBOX
BABY ELO LAMPE.
After the success of its big sister (more than 30,000 copies sold in less than a year), the Elo lamp is now available in a small format. Elo plays with appearances by bottling light and abolishing the boundaries between inside and outside. Designed by Bina Baitel, it diffuses low and effective light, without dazzling guests. Nomadic, autonomous, ELO lamps are designed to move around, as comfortable indoors as on terraces or in gardens.
ALKI
Lasai Armchair
Lasai means calm in Basque. Thus, by definition, the Lasai collection should inspire relaxation and comfort. The result is a collection that transmits these feelings visually as well as physically. To find out more: http://alki.fr/en/collection/4016/Lasai/
SIFAS
SPERONE Dining Chair
Assise spacieuse, à la coque en cannage polyester tressée, la chaise repas de la collection SPERONE by STUDIO SIFAS est une invitation au partage et à la détente. La chaise repas de cette collection SIFAS et sa structure en aluminium laqué, offre une expérience d'assise luxueuse tout en garantissant une durabilité optimale. Pour un moment repas en famille ou entre amis autour d'une table, ou un instant d'évasion sur une terrasse, les chaises repas de la collection SPERONE by STUDIO SIFAS combleront vos attentes grâce à leur esthétique unique et leur confort sans pareil.
MAISON TAILLARDAT
CHEVREUSE Sofa
H 90 - W 130 - D 78 cm Regency Style Beechwood / Love seat
VOLEVATCH
Piet Collection Faucets
THE MUST-SEE, The formal beauty of this elegant faucets with clean and strict lines meets the modern vision of a minimalist design whose perfect geometry is delicately and discreetly invited into the intimacy of a resolutely contemporary bathroom. In this equation, only design, functionality and harmony succeed the feat of giving back all its sense of "handsome in the useful"; thus offering Volevatch the opportunity to sign a first original collection with a clear timeless look.
BONNET MANUFACTURE DE LITERIE
Matelas Climosor
The Climosor 26 cm model equips many star hotels.Meet the criteria of the current sanitary standards, its balanced comfort makes it possible to meet the wishes of all types of sleepers.Pocket springs provide support and ventilation, CLIMOSOR 26 cm is the mattressideal for rent apartments and Guest rooms.
ALKI
Egon Pouffes
A collection of three rounded, individual pouffes. The pouffe, split in two parts, is made up of an extended wooden base and an upholstered section.
GAUTIER
OASIS sofa
Pretty curves for this ultra-trendy sofa. Prefer the off-white bouclé fabric! Nevertheless, numerous fabric finishes are available.
MAISON POUENAT
Chair HUG
This is the flagship piece of the collection. This chair of exception is defined by its smartly arranged hammered bars. The velvet seat completes the set. Finishes: Black lacquered hammered aluminium. Velvety aluminium Brilliant polished brass Size: Width 53 cm, Prof. 47/52, Height 43/64 cm
FERMOB
CADIZ | The whole collection
This collection offers a generous, unusual range of seats, with no fewer than 5 models for all meal settings : chair, armchair, low armchair and stools in 2 heights. The aluminium structure makes it light and manoeuvrable ! he break in the lines of the backrest and the seat brings a touch of modernity. The fabric covering the seats and backrests provides comfort and flexibility. The armrests are hydroformed: this is an advanced technology deriving from the aerospace industry used to transform a straight tube into a slender, curve armrest in 17 successive steps.
LOUIS ROITEL
Molitor Chair
Beyond their initial inspiration, the Molitor Seats are also a real tour de force for Louis Roitel's seat carpenters. Printing Molitor's intricate and pure lines at the seat assumes pushing the work on the ash structure to the limits of the wood material. Thanks to this successful fusion of the quality of style craftsmanship and the modernity of Jean-Philippe Nuel's design, Molitor seats are now regularly cited as outstanding examples of French Design.
MATIÈRE GRISE
Galet pull-out tables
Alone or in pairs, Galet tables are timeless and essential. The composition by 3 allows all color games, from the most daring to the softest, thanks to the 40 colors in our range. Available in indoor or outdoor versions. Made in France.
DUVIVIER CANAPÉS
ELSA
ELSA, with a full range — sofas, armchairs, drivers, chaise longue, daybed and ottomans — evokes the elegance of American stylist Roy Halston and her muse, Elsa Peretti, the jewellery designer for Tiffany. The clean and square lines are counterbalanced by the curves of large duffles strapped on the seat cushion.
MOISSONNIER
Louis XV Bridge table - ref. 686
Louis XV-style bridge table in Coquelicot lacquered beech. Cabriole legs, apron decorated with a bronze shell, reversible top: one sidehas painted chess board, and cards decoration, the other is lined in leather. Also available with fixed top (ref. 686 BIS). French beech from sustainably managed forests. Customizable FINISHES. Cabinetmaker since 1885. Made in France (Ain) on demand (delivery time of 8-10 weeks) .
MAISON DRUCKER
Goffinet armchair
Rattan armchair designed by François GOffinet
RED EDITION
Ellipse Mirror
The interplay of irregular concentric organic forms combined with smoky glass for a hyptonic affect. Whether it accents your vesti- bule, acts as an objet d'art in your salon or plays up your bathroom, the elliptical mirror is a striking addition wherever you put it. 2 sizes : diameter 50 or 80 cm
DELAVELLE
Pilpil Chair
The PilPil chair is entirely handcrafted in our workshop in Saulnot, in eastern France. Its structure is made of solid wood and its seat and backrest are made of noble wood plywood over the entire thickness. The flexibility of the seat and the curvature of the backrest provides ergonomic comfort. This kitchen/dining chair is stackable and therefore easily finds its place in restaurants and communities. It is available as standard in oak, beech and French walnut, oiled or varnished but can also be fully customized.
OBJET DE CURIOSITÉ
Our collection of lamps
Here is a part of our collection of lamps, more are available on our website.
OBJEKTO
Armchair CV Model C
Recognizable by their singular style and admirable by the perfection of their realization, the furniture of the Valdés collection has become references and cult objects highly sought after by connoisseurs and design lovers. The C armchair and the CV sofa complement the trio of seats in natural leather by offering a seat and backrest upholstered and covered in beautiful leathers. The padding made of dense foam adds to the feeling of comfort. Original creations with a marked identity.
RÉSISTUB PRODUCTIONS
Lili club chair
Lili club chair can be used as well as in a living room or in a bedroom. It is adaptable to your needs (several colors and fabrics).
DRUGEOT MANUFACTURE
VOILE bookcase
La bibliothèque VOILE réunit fonctionnalité et originalité : espaces de rangement de différentes dimensions, asymétrie des formes, fonds de couleur personnalisables. Pratique, elle apporte une touche de distinction dans votre intérieur. DIMENSIONS H. 200CM X L. 100CM X P. 23,5CM - Pied adapté pour une plinthe jusqu'à 1.5CM d'épaisseur et 12.5CM de haut, POIDS 38kg - MATÉRIAUX Chêne français 100% massif issu de forêts françaises gérées durablement - Fonds replaqués chêne 6/10 massif - FINITION Vernit mat + fonds couleurs personnalisables. Livrée montée - Bibliothèque fabriquée en Anjou, France