Color power - What's new? @Maison&Objet Paris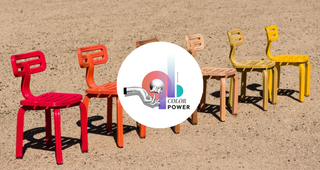 Color Power calls for shock therapy to counter the ambient doom. Discover the products of the Color power exhibition by Elizabeth Leriche of the Maison&Objet Paris fair in September 2022. Vases, textiles, baskets, hampers, chairs… the selection plays with every shade within a graphic and sensual structure outlined in color.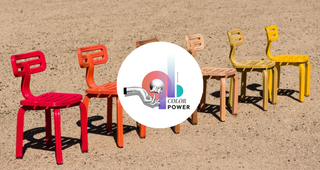 SILVER.SENTIMENTI.CERAMIQUE
Vase GL.R.151
Tall cut in beige stoneware, leather embroidery, gold leaf decoration. Handmade work in my workshop in Normandy. Decorative pieces combining ceramic and textile craftsmanship. Each piece is unique.
POP CORN
CHUBBY CHAIR
Design Dirk Vander Kooij _ Dimensions: H77 x D47 cm _ Weight: 9 kg _ The "Chubby Chair" by Dirk Vander Kooij is a chair made from recycled and molded refrigerator parts thanks to the use of a giant 3D printer. Its very thick lines give this impression that the chair was made from plasticine.
DCWÉDITIONS
Focus x5
But what if the planets were nothing more than soap bubbles that have remained intact as they travel through time? Armed with his astronomer's telescope that let him observe their every movement, Yuji has transformed them into objects floating in a weightless world.
PRINT BAKERY
Huh Myoung Wook's objects
Huh Myoung wook creates his works with the traditional material called lacquer, instead of using paint. Pursuing the theme of tradition, he had came up with an idea of utilizing lacquer that is normally harvested from the lacquer tree. He has worked to reflect colors from the accumulation of multiple gestures, not just by drawing a single line. This resembles the process of natural ripening as if inducing profound taste from ripened ingredients.
KINTA
Kinta's colored wood & arch candleholders
Les bougeoirs en bois coloré de Kinta sont disponibles en différentes formes et hauteurs (25 et 30 cm). Ces bougeoirs décoratifs et intemporels se déclinent en de nombreuses couleurs. Laissez-vous inspirer par nos combinaisons de couleurs de la saison ou mélangez et assortissez vos propres couleurs. Le bougeoir en forme d'arche convivial de Kinta est un ensemble de trois bougeoirs. Cet ensemble est fabriqué à partir d'une seule pièce de bois. Le bougeoir décoratif et intemporel est disponible en teinture noire et dans les couleurs sable et céladon. Tous nos bougeoirs sont fabriqués à la main e
GIOBAGNARA
SCALA TABLES & CONSOLES
This line of leather covered furniture and objects were inspired by the "stacked" form often seen at the base of some buildings in Italy, as well as the famous heel of Salvatore Ferragamo. This selection of stools, nightstands and sideboards have an identical recurring pattern, superimposed and highlighted by deliberately thick legs, giving a delicate graphic line. Now, with a change in perspective, the same shapes and proportions become centerpieces, boxes, lanterns and vases. Wallpaper* Design Award 2018 Winner
ARTU
Moss 2400
Soft, flowing, tactile forms of the new Moss collection are inspired by moss that embraces the surface of stone or wood. There are no sharp corners, every detail is conducive to comfort and coziness. The Moss collection is available in three sizes from a single seat to a three-person sofa. Moss collection items can be produced with any upholstery regarding to customer wishes.
ARTYCRAFT
Milano 70s Rug
This wool and Tencel (vegetable silk) rug will seduce you with its design inspired by the Memphis movement. Collection: Design Movement. Technique: Hand-knotted. Irregular cut effect.Tencel is a very soft and pleasant material
BROSTE COPENHAGEN A/S
MARSTAL CUTLERY
• A novel series of cutlery inspired by the life lived in classic shapes with vibrant coloured handles• The many-coloured cutlery set with two-coloured handles comes in two colour combinations; tones of beige and multicolour• The handle provides a comfortable grip that is easy to hold and use, making it ideal for everyday use• Dishwasher safe
MAPOESIE - PARIS
Cushion cover
Summer 2024 - Cotton
POLSPOTTEN
Zig Zag White coffee table
Materials:lacquered polyester, water resistantIndoor use onlyDimensions:Ø60 x H35 cmDesign:Pols Potten Studio
Color power by Elizabeth Leriche
Color Power calls for shock therapy to counter the ambient doom. A rich, thoughtful palette energizes and sets the tone for interiors, just as it provokes our senses and emotions. Elizabeth Leriche proves it to us by emphasizing both these shades and their saturation, brightness, shiny, or matte qualities. Vases, textiles, baskets, hampers, chairs…the selection plays with every shade and suggests new types of harmonies within a graphic and sensual structure outlined in color.