Tones of White @Maison&Objet Paris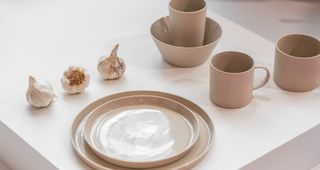 Discover the products of the Tones of White exhibition by Julie Boucherat that will be held at Maison&Objet Paris from 8th to 12th September 2022.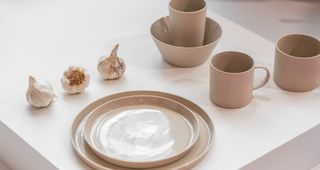 ALESSI
Plissé Electric kettle
Electric kettle in thermoplastic resin. cl 170 Designed by Michele De Lucchi and made of thermoplastic resin, the Plissé kettle combines functional aspects with a plastic and fascinating design that reveals the creator's architectural background, as well as his passion for the handicraft and for sculpture. Like a dress sculpted by a fashion designer, this kettle is a beautiful object to be left on display on your kitchen top.
MANUFACTURE DE DIGOIN 1875
Brasserie collection
A collection of stoneware plates to embellish the everyday table and simmered dishes to be enjoyed without moderation. A palette of colors to mix as you wish.
BROOKLYN CANDLE STUDIO
Brooklyn Escapist Candle
It was only a matter of time before we created a candle just for our favorite destination of all—our home of Brooklyn. Inspired by late nights lingering with friends in aged leather booths of bustling cocktail bars, live jazz serenading the room and sipping drinks infused with exotic ingredients like wild sage, cassis, and orange blossom.
CÔTÉ BOUGIE MARRAKECH
Tajine Candle
Let this Candle Tajine walk you through the beautiful and emblematic sun-kissed streets of Medina where a heavenly aroma of spices entices your senses while exalting your paths
DÔME DECO
ARIA vases
For more information on prices, dimensions and stock, please consult our dealer webshop via b2b.domedeco.com. Contact us via info@domedeco.com
FIORIRA UN GIARDINO SRL
100% abaca food covers
Couvre-plat en filet d' abaca, disponibles en 6 modèles. Parfait à protéger la nourriture à l'extérieur contre les insectes, les feuilles, etc. Très utile même à l'intérieur. Grâce à la matière naturelle et la facture artisanale est très décoratif et peut toujours être laissé exposé! Pratique, élégant et léger. Parfait pour la restauration professionnelle.
MOBJE
Posing lamp
Make casual adjustments to the light, every day." The table lamps are sewn together with a single strand, from the base to the lampshade. The monobrin is a braid that was developed for these lamps. This braid, made of approximately 80% Japanese paper, has excellent transparency and maintains its shape so that it can be molded into a variety of shapes. You can make adjustments to the light every day, changing the shape of the base and the shade.
NEO-TAIWANESE CRAFTSMANSHIP
Sake glass pot set
Created using 3D printing technique, the work includes four unique sets of sake bottles. The outlines of the bottles are formed by five different cross-sections and printed with random cloud patterns.
NEW MAGS
Caché Equi | Bookends
It is in the interaction between two precious objects, the Equi bookend and your favorite book, that an element of balance comes into play. The two depend on each other so naturally, it is almost as if they are dependent on each other. They are now one. That's the essence of Equi. A versatile bookend made entirely of marble or travertine, it is designed to help or subtly counterbalance your books and magazines. Equi can be placed in a variety of ways, and can even be used as a sculptural element in its own right.
CARRON PARIS
Vase Mademoiselle design by Mathilde Carron-Astier de Villatte
Mademoiselle vase, which will enhance a baroque or sober floral composition with its design. Entirely handmade in France, every piece is unique Made with black terracotta clay, glazed to create a milky white finish Perfect for everyday use, surprisingly light, extremely durable & dishwasher-safe Designed by Mathilde Carron-Astier de Villatte, inspired by the 18th & 19th-century designs
GEORGES STORE
Haute Vallée
Table lamp with a refined look. Brass structure, cover and hat in braided paper. Haute Vallée is available wired or wireless.
MANUFACTURE
Moro - Armchair
Moro is a cosy cocoon of a chair. Named after a famous Venetian Doge, the design evokes the strong personality of an Italian palazzo's lush interior. A warm and welcoming atmosphere that could never be forgotten. The chair consists of a single rounded volume, like a shell designed to make the user feel safe wrapped in its comforting arms. Moro's shape is inspired by castanets cheerful and sensuous finger clappers used as percussion instruments.
KARE DESIGN GMBH
Swivel Armchair Peppo Lounge White
Trendy white, round swivel armchair Designer armchair with bouclé upholstery fabric and in flower shape A practical aspect: thanks to Easy-Clean features the fabric repels water and stains ECO-TEX 100 certified upholstery cover with a soft feel A rotating chair for the dining room or swivel office chair in your home office Supplied fully assembled
KHJ STUDIO
Biodegradable paper plate - Oak Leaf
Made of paper pulp, the PLUS NATURE collection - Oak Leaf Plates - are biodegradable paper plates.
The unique Oak leaf shape help us to hold easily, and make a table with style. It has no plastic coating on, but it has water and oil resistance. Heat resistance temperature is 230 degree, and it's Micro-wave safe even oven-safe under 230 degree / 3 mins.
KHJ STUDIO
Ro plate - long
The Ro plate is carved marble. It has a moonlight-like colour and surface, and unusual asymmetrical curves. It is untypical: not flashy, but quiet and strikingly unique in look and feel. It is thinly sculpted, to reduce weight and improve ease of use. And it is hand-finished but completely functional: finished with a food-safe water-repellent that is not easily stained from use. Material: Marble Size: 40 X 14.6 H1.8 CM
NOMA
Chair SEN 93.7
Sen is a chair. Stackable It is made up of 93.7% of recycled materials. These are two shells of recycled plastic or multipli of stained beech on a recycled steel wire structure.Sen is available in several colors.
REAL
JAURÉS CHAIR
Coming from the centre there's a leaf, a natural continuity, an acceptance of the self in order to grow accordingly, creating a world of its own without imposing any constraints to itself. The Jaurés Chair is a metaphor of self- -acceptance, a metaphor of our growth as unique beings, distinct from one another.
REVOL
Shovel plate 18 CM
The strength of the Yli collection lies in the way its craftsmanship has been reproduced in an industrial way made possible by Revol's skills and knowledge going back for more than 200 years. The shovel plate is as much for chefs looking for modern and inspiring shapes as for passionate individuals who are sensitive to handcrafted decorative and tableware objects. It is ideal for preparing starters, tapas, desserts, and appetizers. The reinforced handle makes it easy to hold and serve.
PIGMENT FRANCE BY GIOBAGNARA
LEATHER WOVEN AND PADDED PLACEMATS
Precious leather placemats made with finely woven leather or decorated with a straight lines quilt pattern or an embossed Vienna pattern. These placemats feature a special treatment that makes them water-resistant
BLOOMINGVILLE
Savitri Candlestick, Yellow, Stoneware
The Savitri Candlestick by Bloomingville is a beautiful addition to your home decor. Made of stoneware in a warm brown color with a flowing glaze in a beautiful yellow hue, this candlestick creates a stunning contrast. Use it to spread light and coziness in your home or as a decorative item on a shelf or table. Due to the nature of the glaze and the handmade technique, color variations may occur.
BROSTE COPENHAGEN A/S
SMOKE / AMBER EXTENTION BEER GLASS
• Complete the table setting with the beer glass from the Smoke and Amber glass series• The tall stem prevents the hand from warming up the beer glass, making it ideal for lagers, Pilsners and other beers usually served chilled• The beer glass is mouthblown with a coloured foot which fades into the clear making each glass unique• Safe for use in the dishwasher
MANUFACTURE
Sassi – Armchair
Le dossier et les accoudoirs semblent flotter et s'effleurent, telles les pierres à la surface lisse et douce. Tantôt empilées à la main pour former une tour, tantôt imbriquées selon la technique ancestrale du mur de pierre sèche d'après laquelle chaque pierre se touche latéralement sans qu'aucune ne puisse en être extraite, c'est dans une même recherche d'équilibre des matières et d'harmonie qu'atelier oï s'allie au meilleur du savoir faire italien pour signer avec Sassi une pièce à la légèreté raffinée.
MAOMI
Porcelain KAYA TINY
KAYA TINY is an exquisite ensemble of two separate jugs and four unique, small bowls. It bridges the gap between professional gastronomy and the discerning private household. We have designed the jugs so delicately that only the thumb fits into while pottering. MAOMI produces the designs in Vietnam, where our partner company is supported by an international development cooperative. KAYA TINY is available in the soft colors greige-ecru, eggshell and shiny white.
METAPOLY
Salin Vase
Le Vase Salin est réalisé en sel de Camargue mélangé à de la résine éco-sourcée bio afin de rendre hommage aux paysages des salins Camarguais. Véritable ode à la matière, chaque vase est unique et façonné à la main par la designer Marie Rolland. Production à la demande (6 semaines).
Purest white, snowy white, alabaster white, off-white, eggshell, écru, clay white, milky white, greige...every shade of white is infinitely subtle. These variations, whether they're warm or cool, make them timeless shades that are flexible and adaptable to any type of project. Here's a lovely selection of them, which we can see in fine contrast.