Guillaume Garnier & Florent Linker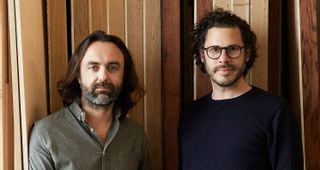 Guillaume Garnier and Florent Linker are two French creators based in Paris. Their work is about giving a contemporary design to rare materials and savoir-faire. All pieces are handmade in small series by French master craftsmen. Discover their products selection on MOM!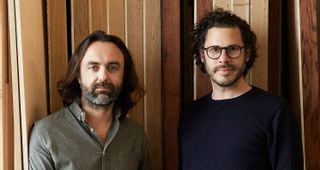 AUTENTIC
Billy-Joe Double Bell 7.2
This magnificent Billy-Joe Double Bell 7.2 offers 32.6 sqm of floor space. It is crafted from sturdy 320 gsm Autentic canvas, and treated for optimal water and mould resistance. It comes with a double center pole, two A-frames and a zippable PVC groundsheet. Billy-Joe tent has large entrances in the front and back, as well as four windows on each side for maximum ventilation. The Billy-Joe Twin Bell is the perfect event tent for a festival, a luxury eyecatcher at a glamping site or a spacious retreat in the back of your garden.
ROBINSON
Japanese stationery Kakimori
Have you ever imagined an ink bar?A true Tokyo stationery store, Kakimori has been exploring the world of colours and shades like a mixologist in search of new flavours for over 10 years.In each of its three shops, the brand has a space for creating customised colours. With the help of test tubes and pipettes, customers can mix their own inks to obtain a customised colour.
OKUIZUMOMAEWATAYA TESSENDO
YANAGIBA KITCHEN KNIFE
Yanagiba Kitchen knives processed at Tanaka Knife Mfg. Co., Ltd. in Sakai City, Osaka Prefecture, which is famous for producing cutlery. "Tamahagane" is extremely difficult to handle, so it is a product completed by skilled craftsmanship.
FRESH TAIWAN
Ystudio _ Classic - Rollerball Pen
The rollerball pen stands out for its exquisite materials, but even more for its functionality. It is heavy enough to provide a stable grip and smooth writing. You can enjoy this pen no matter when taking notes or signing.
VALERIE OBJECTS
alu collection
The alu chair is made of aluminum, it is quite lightweight and suited for both indoor and outdoor use. The aluminum trestle of the chair shines bright while the colored back and seating give it that typical Muller Van Severen aesthetic. These chairs are painted in a powder coating. Muller Van Severen chose sixteen color combinations which is a larger number than they usually work with. "This multiplicity of colors makes it look extra fun", says Hannes. "You can actually create a landscape of colors". "The colors of the chair really determine the atmosphere of the space"
EDITIONS SERGE MOUILLE
Wall lamp 1 arm 2 ball joints
Wall lamp 1 arm 2 ball joints
WOODEN STORY
Wooden Bowling Set
Les enfants jouent à ce jeu depuis des siècles. Qu'est-ce qu'il y a de si fascinant là-dedans ? Cette boîte contient un ensemble de 10 quilles de bowling et de 2 boules de bowling produites naturellement à partir de bois tendre. Ils reposent dans un sac en coton blanc écru et tissé biologiquement. Ce sac peut être utilisé pour ranger les jouets de votre tout-petit, emporter l'ensemble chez un ami ou l'emballer pour un voyage. Les possibilités sont infinies. C'est aux enfants de décider.
MAISON DRUCKER
Folding chair (Tuileries)
The know-how of Maison Drucker weavers also applies to metal frame chairs. This folding chair, is light but strong, decorative and personalized. As a café chair, a dining chair or a kitchen chair.
SERAX
August by Vincent Van Duysen
The Outdoor collection by Vincent Van Duysen for Serax is made of aluminium and it is available with a black or grey-green powder coating. This makes it suitable for both indoor and outdoor use. The chairs, lounge chair, and table articulate the sheer simplicity of the monastic life they were inspired by. The wider, slightly lower proportions are of this day and age and contribute modern-day comfort.
REVOL
Bowl 17 oz
Based in his home workshop, designer Ferréol Babin brings each of his pieces alive by leaving on them the imprint of his hands and his tools. The bowls reflect this free and subtle creative process. The YLI bowl covers all the needs of the table and the service of dishes to be shared. The collection offers 2 finishes for atmospheres: in its simplest form in black ceramic, tinted in the mass, and in its porcelain, version glazed with a silky Alabaster white. Made of porcelain, the bowls can go in the oven, the microwave, and the dishwasher.
OMOSHIROI BLOCK
SHAPE Kyoto -RIN-
Traditional Buddhist temple in Kyoto, Japan. World Heritage Site. Cherish every moment. Engrave your memories and special moments, deep into your heart. Memory×Moment×sculpture A beautiful design will appear when using each piece of high-quality craft paper. Even after finishing using it, it can be used as a delicate paper as a decoration. Enjoy your own special OMOSHIROI.
Guillaume Garnier et Florent Linker
Garnier & Linker's work straddles the intersection of several disciplines. Guillaume Garnier and Florent Linker refuse to be categorized, instead opting to draw inspiration freely from multiple media incorporating design, crafts and sculpture. The duo's quest for clean, simple forms is a showcase of carefully curated materials and savoir-faire. Together, the latter form the language of Garnier & Linker expressed through alabaster, plaster, stone and lost-wax cast glass. The design is in the details, as manifested by the GL hallmarks of material texture and depth. The French duo's approach is now embodied in two Paris-based locations, serving as natural extensions. First, the creative studio which is also the showroom for Garnier & Linker collections. And second, the workshop. They use the two spaces to continually exchange ideas, sketches, mock-ups, tests and fragments. Together, they are then handcrafted into models entrusted to French master craftsmen. Inspired by their Camondo training, Garnier & Linker have rediscovered an urge to deepen their connection with French savoir-faire. The pair will embark on a tour de France visiting workshops in an endeavor to discover and reinterpret a plethora of techniques. That same impetus sparked their first lighting collection, which was swiftly supplemented by further models and a furniture set. The two French creators exhibit in Europe, the United States and Asia. Their work is regularly used by architects and designers to complement their own projects.
http://www.garnieretlinker.com/