Nature & Crafts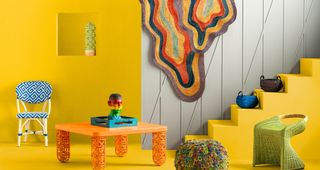 When the work of human hands magnifies the bounties of nature! A gathering of the finest brands from the Philippines that illustrates the best craftsmanship from this country and a perfect alliance between nature and artisanal skill. A selection of exceptional products awaits your discovery on MOM.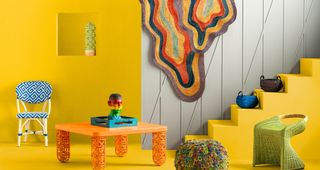 WEAVEMANILA INC.
Radiohead
A Pop Art Rug 100% handstitched natural abaca rug. Inspired by the last generation of Millenials that still enjoyed Music through Casseete tapes.Size: 0.8m x 1.0mColor: Assorted Materials used: 100% Natural AbacaPrice: $172.96MOQ: No Minimum OrderShipment Terms: Ex-works
E. MURIO MANILA
PP Chair
In flame-bent rattan, with solihiya
NATURE'S LEGACY
Tobby White & Sand Collection
Handcrafted from MARMORCAST®, an innovative patented high-quality polymer material, this item brings luxurious refinement to any decor. Its mirror finish becomes an attractive, fluid and compact conversation piece at the same time. Available in different colours and sizes.
DESIGN PHILIPPINES HOME
GOLTRIO Capiz Rock Lamp Collection
Capiz Table Lamp, Wall Lamp, and floor lamp collection in Rock Concept. Main material used is Capiz Shells binded together using brass sheet. The Capiz Shells showcase the natural texture while its irregular shape showing an abstract look of a rock. Size, shapes and any specifications may be changed base on client preferences.Wall Lamp Dimension: 45cm x 20cm x 50cmHanging Lamp Dimension: 65cm x 25cm x 58cmTable Lamp Dimensio: 80cm x 55cm x 45cm
VENZON LIGHTING & OBJECTS
Cherry Blossom Bouquet Pendant Lamp
The translucent effect of these hanging lamps adds a chic and contemporary touch to any living space. It is made with Capiz shells unique to Philippine islands. Its aluminum branches finished in textured white are hand-twisted evoking the organic beauty of a Cherry Blossom. Size: 22″Dia. x 23″Ht
DESIGN PHILIPPINES OBJECTS
STARWOOD Capiz Shell Tabletop Crane Origami
Handmade tabletop from laminated capiz shells of origami peace crane. Available in natural and colored finish. Dimensions: Large| 11.75 X 8 X 4.75"H, 5"TH (inch) M| 7.75 X 5.5 X 3"H, 3.5"TH (inch)
DESIGN PHILIPPINES OBJECTS
ART MEETS CRAFT Molly Sculpture
Life is good, life is great, and what a time to be a woman indeed! This piece of art, Molly, is hand-casted using fiberglass material and intricately hand-painted to perfection in vibrant colors using weather-resistant paints (lead-free), and coated with UV-protecting varnish.See more from Art Meets Craft at https://bit.ly/DesignPhilippines