Sweetness of life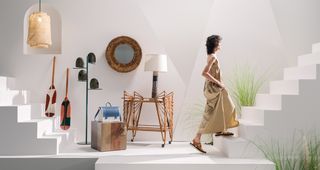 For interiors where easy living is infused with an exotic mood! A gathering of beautiful brands from the Philippines to help you unearth the furniture and decorative items that will take your clients on a journey, all on MOM!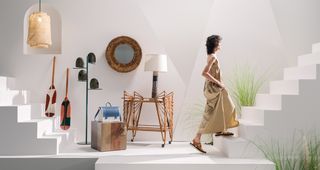 DESIGN PHILIPPINES LIFESTYLE
MEJORE Stella Coffee and Side Table
Showcasing the beauty of natural materials woven by Filipino craftsmen, the Stella Side and coffee table collection is finished in an elegant reckon wood veneer laid out in chevron pattern. The base is three U-shaped legs with a striking solihiya or cane weaving pattern. See more from Mejore at http://bit.ly/FAMEPlus.
INDIGENOUS
Scroll Dividers (Baybayin Script -Pinyapel Single)
Paper divider made from sustainably sourced natural fibers: pineapple, abaca and cogon grass based handmade paper. It includes natural rattan poles and paper twine. Printed with tulco paint with words, "sulat" (write) and "galing" (excellence) in Baybayin, the pre-colonial ancient writing script of the Philippines. Available in custom print and sizes.
DESIGN PHILIPPINES HOME
HACIENDA CRAFTS BISCORNU Totem Lamp
The Biscornu Totem Lamp is inspired from a small, octagonal, stuffed ornamental pincushion, three stacked on top of each other. Rattan strips are hand joined to stitch layers of bamboo together, effectively creating this form and shape. When the lamp is on, rays of light & shadow are cast on surfaces around the space. The lamp is hand crafted by the artisans in rural communities creating livelihood opportunities. Colors: Wenge, White, Carrot
DESIGN PHILIPPINES LIFESTYLE
A. GARCIA Modena Arm Chair
Le fauteuil de salle à manger Modena est fabriqué en bois de frêne sculpté à la main et son dossier est tissé à la main avec du solihiya, par des artisans des Philippines. Dimensions : 60 cm x largeur 54 cm x hauteur 96 cm
ZARATE MANILA
SLIQUE II Chairs
This low, lightweight, and stackable lounge chair is made with powdercoated steel and polyurethane coating, finish with oakwood as accent.Sharp and dimensional, the SLIQUE chair shows how design can be simple yet instantly chic at the same time. Size: W 62 x D 65 x H 68 x SH 38 cm
DESIGN PHILIPPINES LIFESTYLE
JB+ Wooden Boro Dining Table
Handmade from solid wood and veneer, by local artisans from Pampanga, Philippines. In natural finish.See more handmade furniture collections at fameplus.com, the home of Design Philippines here: https://bit.ly/DesignPhilippines
P&B VALISES
BOHO BOOKSHELF
Cappuccino leather tones Baraco and express beans with steamed milk and sprinkles of cinnamon. Coupled with earth toned Canvas, garnished with brass fittings and rivets, black iron framed and drift wood finish.
DESIGN PHILIPPINES HOME
RAFAEL LIGHTING Stitch Lamps
Une collection dynamique et colorée de lampes de table, fabriquées à la main à partir de bois d'acajou comme base et de textile raphia tissé à la main pour l'abat-jour. Disponible dans des couleurs et des tailles personnalisées.
DESIGN PHILIPPINES HOME
PRADO Constellation Handcrafted Pendant Lamp
Handcrafted Pendant Lamp made of Galvanized Iron Wire . Available in custom color and sizes.