Madeleine Oltra & Angelo de Taisne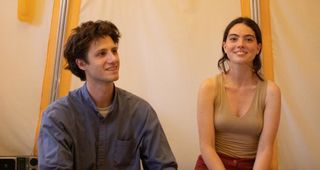 Madeleine Oltra, trained at the Design Academy of Eindhoven and Angelo de Taisne, architect graduated from the school Paris-Malequais are two French winners of the latest Grand Prix Design Parade Toulon. Fans of the nomadic style of vacationing, they offered a fresh take on a 1970s tent using sustainable materials. Discover their selection of products on MOM!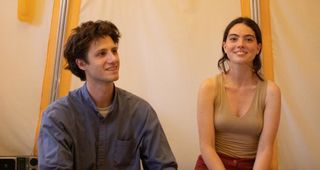 MAISON POUENAT
Bar BARRHA
Discreet and elegant when folded, it can be unfolded in a brilliant way allowing you to serve the aperitif or digestive. Finishes : Satin polished aluminum + shiny varnish. Sanded aluminum + satin varnish.
KLAOOS
Beach umbrella - Luluzi green blue - Klaoos
Beach umbrella 100% Made in Europe, made of a recycled plastic textile and printed with the Imprim'vert® ecological label. UV sun umbrella UPF 50, silky fabric with water repellent effect, with matching carry bag. The Klaoos beach umbrella can also be used outdoors in a balcony or terrace. The support base for the parasol is not included (diameter of the parasol stake: 2.5 cm). RRP (France) 169€
GEORGES STORE
Tabouret
Made of solid oak wood from French forests. The stool is held by an ingenious system of interlocking. In bedside or in its initial function, stool knows how to be as delicate as raw wherever it is.
MANUFACTURE DES EMAUX DE LONGWY 1798
BICEPHALE
A meeting between the icon of nomadic chic and our Manufacture with centuries-old know-how. India Mahdavi, an international artist whose cosmopolitan and polychrome universe is no longer to be presented, offers an exceptional piece with this two-headed enamel tray, illustrated by the Maison's famous apple blossom and primadonna pattern
BONNE MAISON
House Night
High quality socks, in double thread cotton with some elastane for an optimal quality.
SILIKOMART S.R.L.
MULTI INSERTO ROUND MOLD
With Silikomart MULTI-INSERTO ROUND it is possible to create 3 decorations or inserts of different sizes: a round insert of 18 ml for single portions, a round insert of 600 ml for cake and a 300 ml donut insert to create perfect layers and unexpected colours and tastes combination.
QUAIL DESIGNS EUROPE BV
Water Jugs
Our lovely yet practically useful Water Jugs come in a fabulous selection of animals from our lovely Goose to a Tiger or even a Wild Boar.
METAPOLY
Low Spline Table
La table d'appoint Low Spline est composée d'un plateau fin et élégant, contrebalancé par trois pieds élancés. La table est en aluminium, un matériau aux propriétés uniques : solide, élégant mais léger. La table d'appoint est disponible en variante haute ou basse. Associées, elles s'alignent pour former une composition encore plus équilibrées. Production à la demande (8 semaines).
4TH-MARKET
Ceramic frying pan
Servi individuellement. design fait main, contemporain et original. Notre caractéristique est un ragoût résistant à la chaleur. Il peut être utilisé à la flamme nue, au four traditionnel et au micro-ondes. Peut utiliser le lave-vaisselle.
TESTATONDA
TRESPADE lounge chair
The TRASPADE lounge chair is made by hand-polished stainless steel tubes and sheets. Trespade collection is the repetition of dimensions, the intertwining of materials, colors and reflections: our way of interpreting matter. DIMENSIONS: H 880 x W 800 x D 550 SEAT H 450
VIÚVA LAMEGO
"Tavira" Collection by Bela Silva
The 17 cm by 17 cm tiles present an irregular finish, both on the surface and in the form. Bela Silva's painting is done by hand, thus imbuing a character of uniqueness through her more or less heavy brush strokes. The "Tavira" collection is composed of four designs that form four distinct patterns.
POP CORN
MINI BOX _ Mix Colors" crates
Rangement pliable avec poignées _Polypropylène _Dimensions dépliées H106 x L266 x P171 mm _Dimensions pliées H27 x L266 x P171 mm _Capacité 2,5 kg _Plusieurs couleurs disponibles _Compatible avec les aliments, sécurité alimentaire _Empilable _ISO 22000 / ISO 9001 / ISO 140001 / OHSAS 18001_Les casiers colorés font leur show!Ils s'invitent à la maison en guise de mobilier. Elles évoquaient jusqu'à présent les étals du marché ou l'épicerie de quartier...Dorénavant, les cagettes en plastique s'illustrent aussi en rayon déco.Inutile de faire des compromis entre le style et le rangement.
Madeleine Oltra and Angelo de Taisne, the culture of nomadic living
Winners of the latest Grand Prix from the Design Parade Toulon, Madeleine Oltra, trained at Design Academy Eindhoven, and Angelo de Taisne, an architect trained at the école Paris-Malaquais, won by a unanimous decision! It has to be said that their Sardine, Sardine project, which was a tribute to camping on the Mediterranean, was both clever and glamorous.