CHEERS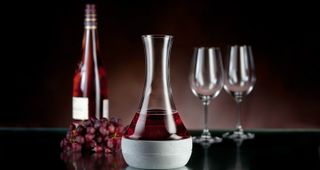 Selection M&0
This week, MOM simply couldn't skip the annual event celebrated by the most patriotic of French people: the arrival of the Beaujolais Nouveau on blue, white and red-striped tables, on November 16th. Turn to our selection of minimalist decanters and audaciously curved wine glasses, and stock up on accessories that will enchant groups of friends.
Carafina
HUKKA DESIGN / RAW FINNISH
Unique wine carafe, that combines high quality glass with over 2 billion years old natural stone. Great to temper red wines to perfect serving temperature or keep whites cool for a long time. Stone pedestal can be frozen to accumulate the cold.
Original double-walled bottles - Silodesign (wine-tea-coffee-juice)
SILODESIGN
Professional quality bottles used for hot drinks (coffee, tea, soup, etc.) or fresh drinks (smoothies, wine, juice, etc.). Their double wall gives them an insulated effect, they keep both warm and cold longer. A "must" of the Silodesign Paris range!
Bottle Tie
24BOTTLES
Bottle Tie is the ultimate, new-born accessory to your 24Bottles, the most comfortable and stylish way to carry it safely and with a secure grip, throughout the day. We designed it exclusively to adapt to all 24Bottles way-of-life: whether yours is a more casual or formal style, thanks to Bottle Tie you can secure your bottle to your bag or tie it up to your trouser loop. Our idea of design also means comfort. The smooth lines of Bottle Tie found their natural match in the soft touch of silicone, a gentle material that, unlike common carabiners, will never damage your reusable bottle.