Lara Brehm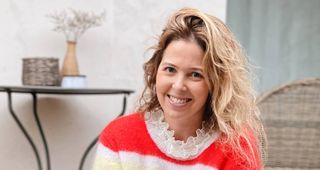 A creative jack-of-all-trades and mom of two boys, Lara is passionate about interior design. She works as a creative director for both photo shoots and various publications in the print world. Her attraction to decor has led her to start her own Instagram account, @laralovesparis, where she shares her finds and inspirations. Discover her products selection on MOM!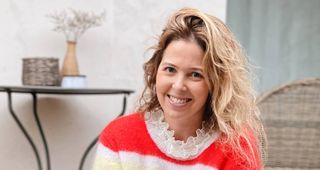 BLOON PARIS
Bloon Velvet - Rose Agate
The new Bloon Velvet collection has arrived! With its soft velvet-effect fabric that is very chic to the touch, "Bloon Velvet - Rose Agate" is perfect to embellish your personal environment. Also suitable for a long working day, to prevent the effects of prolonged sitting. Available in 2 sizes: Regular and XL.
BLOOMINGVILLE
Aysia Daybed, Nature, Leather
The Aysia Daybeed in buffalo leather and mango wood is a beautiful, exclusive and classic piece of furniture in high quality. Over time, the leather will get the perfect patina. Place a soft lambskin on top with some decorative pillows for a personal touch. Can be paired with the Aysia Stool in the same high quality materials.
NOBODINOZ
Baby On The Go collection
Nobodinoz introduces a complete new range of products for the pram . With the Baby On The Go range, Nobodinoz takes on a new technical challenge: The organic cotton twill keeps its natural look and feel but, thanks to an innovative process, it is also completely waterproof. The range contains the essentials for your outings: changing backpack, changing bag, footmuff, changing mat, insulated lunchbag. Locally made in Barcelona.
SNOWDROPS COPENHAGEN
Snowdrops Copenhagen
Vintage Pots, Paper Maché items and Console tables
MAILEG
Children toys & interior
Maileg is a brand of charming Danish-designed toys created to inspire children.
MAISON PECHAVY
Ceramic scented candle
A range of scented candles in handmade and colored ceramic. A design by Carine Pechavy, inspired by Japanese perfume burner. These locally made cases are designed to be reused.Ceramic candle available in 8 colors to create a cozy atmosphere around its fireplace. Fire lighters, mohair plaid, candles and candle holder complete each collection. Available in 3 scents that evoke the warmth of a wood fire around an oriental, seaside or Provencal atmosphere.Arranged in duo, 600gr and 200gr, these scented candles bring a touch of elegance to your interior
OYOY LIVING DESIGN
Inka Vase - Small
The mouthblown Inka Vases have a simple and elegant expression, which fits perfectly into all types of homes. With its colored glass, the vases will in combination with your favourite flowers and branches adorn the home. The vases are an addition to the well-known Inka series, which is characterized by its round, unique handles. The vase is mouthblown and turned by hand. The Inka Vase is available in several colors.
MADAM STOLTZ
Mirror w/ wooden frame
Mirror with frame of recycled wood Recycled materials will vary in shape and colour
DOING GOODS
Textiles
Tous nos textiles sont 100% faits à la main en utilisant des techniques traditionnelles de blocage.Les artisans avec lesquels nous travaillons ont été enseignés par leurs parents, qui, à leur tour, ont été enseignés par les leurs — chaque génération fonctionnant presque exactement comme celle d'avant. Après avoir conçu un motif et coupé en un morceau de bois, les motifs sont imprimés sur le tissu. Travail fastidieux et précis, le blocage est la première, la plus simple et la plus lente de toutes les méthodes d'impression textile. Et nous l'aimons !Chaque pièce est unique.
OPJET PARIS
Modern vase, design vase
Our selection of vases stand out for their authentic designs. Made to give a natural and stylish touch to your home decor.
HUMDAKIN
HANSTHOLM MARLE BOARD
MARBLE BOARD - RECTANGULAR 35 x 20 cm Marble stone This beautiful rectangular marble board is the perfect addition to your kitchen, bathroom or for a stylish stilleben in your living room. Place your Humdakin hand care products or dish soap on the board for a beautiful finish to your styling. As marble is a natural material, color and pattern may vary. Care: Wipe off with a damp cloth once a week to remove dust and keep clean.
AUTUMN
BOUTIS COVER
Discover our range of boutis in the most beautiful metis, linen and washed cotton. Made in Portugal
A creative jack-of-all-trades and mom of two boys, Lara is passionate about interior design. She works as a creative director for both photo shoots and various publications in the print world. Her attraction to decor has led her to start her own Instagram account, @laralovesparis, where she shares her finds and inspirations. As a lover of classic design and more elaborate poetic compositions, Lara is inspired as much by the minimal lines of a piece of furniture as by a floral composition, a contemporary art exhibit, a seaside excursion, or a starry night sky…