Raphael Navot - Designer of the Year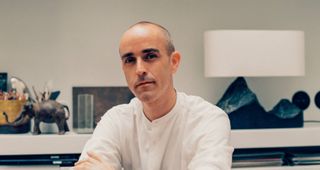 At each edition, Maison&Objet names a Designer of the Year, celebrating the work of the most outstanding talents on the international design and decoration scene. Trained at the Design Academy in Eidhoven, Raphael Navot puts accuracy, sensoriality and humility at the heart of his work. Discover his selection of products on MOM!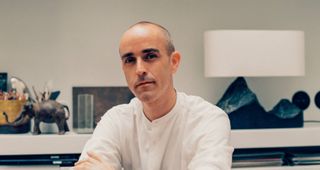 DRAGONFLY
In the Clouds - Plaid
Dans les Nuages is a blanket entirely woven by hand that will literally envelop you in softness. Offered in two sizes, it will adapt perfectly to young and old. An exceptional piece due to the quality of Kashmir and the know-how of the artist. This plaid will fulfill its practical functions as well as it will make it a unique piece that enhances your interior decoration. Sam Kasten By Stéphane Parmentier Dimensions and prices: Large blanket: L 220 x W 125 cm (2600€) Baby blanket: L 122 x W 91 cm (2100€)
DCWÉDITIONS
Aaro ceiling light
Dimmable adjustable ceiling light
DROP
Drop Vuolle Grey Outdoor Spa
Drop Vuolle is a modern outdoor spa that combines Drop's signature water drop shape with massage jets and state-of-the-art outdoor spa technology. In Drop Vuolle, you can sense the murmur of the river as the light plays on the water's surface and enjoy the calming effect of the warm water as you enjoy a first-class bathing experience. Drop spas are designed and manufactured in Finland. Drop spas come with all thinkable features and are delightfully easy to maintain. They fit seamlessly into any space, and can be integrated fully or partially in the terrace.
SERAX (IN THE CITY)
Rudolph by Vincent Van Duysen
The Rudolph sofa comes in a freestanding version, in a two to three-seater size, and single-seaters, with side tables in wood and marble tops. The freestanding side and centre tables complete the collection. "I chose to work with solid black or cognac tinted wood and marble for their texture, warmth, and tactility. All fabrics selected for this collection are custom made in Belgium and come in off white, beige, sand, smoke and bone color schemes. "Rudolph is an organic and super comfortable sofa range as well as extremely versatile. Both very Serax and very Vincent Van Duysen.
FLOS SHOWROOM PRO
Luce Orizzontale S1
Luce Orizzontale by Ronan & Erwan Bouroullec is a sculptural lamp combining exquisite craftsmanship and cutting-edge manufacturing technology. Originating from an ambitious Flos Bespoke project, the design of Luce Orizzontale distils the concept's artisanal complexity: an interlocking, modular structure composed of tubular elements of thick glass, minimally suspended from the ceiling. Exists in size 1 (1656mm), size 2 (2072mm) and size 3 (2488mm) Materials : glass, aluminum, steel, polycarbonate, PMMA
ÉLITIS
La caravane
It is said in Seoul that luck is tucked away in the folds of the Pojagi fabric. When this everyday fabric transforms itself as a coated canvas, and lends its patchwork to walls, is good fortune still hidden within the textile? We have seen it reappear between the large meshes of abaca and raffia weaves. On the canvas, in vast areas of solid color, detailed with decorative topstitching, it has the elegance of a soft and soothing gift. With earthy, sometimes faded attributes from having been passed down and pieced together through many generations, it maintains an ever-soothing article of design
MAISON POUENAT
Coffee Table PASSAGE
The generous arches reveal a mysterious progres- sion, like a game of hide and seek. The harmo- nious oval allows a smooth passage. The timeless elegance. Available finishes: Dark bronze patinated brass, wiped. Calacatta Oro marble top in natural sandblasted oak or grey or walnut stained oak. Available dimensions: Ø100/Ø140 or width 172 cm, depth 86 cm, height 40 cm/width 130 cm, depth 65 cm, height 40 cm (2017)
OPENGOODS
3175 CONSOLE TABLE
We are Chinese, we indeed have our own aesthetics philosophy at bottom of our heart.But we don't want present plain oriental style design, we want add technology , futurism design.We have idea that create new looking from design and digitally fabrication method to do this console table.It is oriental , it is also contemporary too. The curve surface , the curve line show up our idea and technology. It made of different kind of wood , this is combination of minimalism & organic idea .
MAISON DE VACANCES
Sofa Boho Playground 230 Velours Vintage Havane
The signature sofa from Maison de Vacances presented in Vintage Velvet Havane
SAFO
Organic Cotton Fur Round Cushion
This is a large sofa cushion with a large seat into which you can sink and relax, even if you sit on the wooden floor, carpet, or Japanese-style room for a long time. You can work on a laptop, watch a movie, read a book, or just relax in the interior. The fluffy surface fabric is created from organic belts made from production scrap, each piece of which is joined together by hand.
ATMOSPHÈRE D'AILLEURS
Well crank
It took 18 months to bring back this unique collection of 43 well cranks from Niger ! Each furrow belongs to a family clan from the Tuareg, Erma or Haoussa ethnic groups. Worn, dug by the daily rubbing of hemp ropes, these multiple grooves make each well crank unique, which Atmosphère d'Ailleurs has in turn transformed into « dancing sculptures ».
GARDECO OBJECTS
Noi due al quadrato
Noi al quadrato is Italian for 'us, multiplied'. This limited edition bronze sculpture depicts two imperfect individuals fused together, forming a perfect unity. Combining abstract and organic shapes, Armando Di Nunzio masterfully created an intriguing limited edition work of art that is sensational to look at from any angle.
ETHNICRAFT
PI wall shelf
The PI collection honours nature's design, by keeping the strength, curves, and lines, as nature intended. Interesting shapes are discovered in this sleek and stylish, polished imperfect, finish. Each PI shelf is finished by hand to ensure that the individual character of the wood is respected. Designed by Alain van Havre.
Raphael Navot, alchemist of matter
Selected as Designer of the Year, this highly talented designer and interior architect - trained at the Design Academy in Eidhoven - puts accuracy, sensoriality, and humility at the heart of his work. After delivering this year the Belle Plage seaside hotel and spa in Cannes, presenting a new line of Cashfur chairs and sofas, a unique material between cashmere and fur designed by Loro Piana Interiors, and exhibiting his latest furniture collection at the Friedman Benda gallery in New York, he unveils at this new edition of Maison & Objet an immersive installation called Apothem Lounge. A circular, luminous and textured structure, which is part of a sensory experience to relax, rest and disconnect. Because here as elsewhere, this "Jerusalem boy" imagines sensual spaces with organic shapes and sophisticated materials that evoke both visual and tactile emotions.