Sébastien Gaudard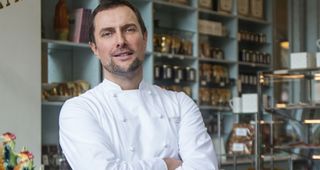 A return to grace of pure pleasure, of nimble fingers forgotten, plunging into a well of love… Sebastien revisits the most beautiful aspects of French pastry heritage to put a new twist on authentic and generous flavors. Take a look at his inspiring selection.
Couronne serving bowl.
CARRON PARIS
Couronne serving bowl that draws its originality from its multiple functions. It can stand on your table as a bottle coaster, you can use it for appetizers, desserts, or as a decorative piece under a flower pot. On your desk with stuff inside, or on your dressing table for your jewelry or makeup, its usefulness will constantly surprise you!-Entirely handmade in France, every piece is unique-Made with black terracotta clay, glazed to create a milky white finish-Perfect for every day use, surprisingly light, extremely durable & dishwasher-safe
April Vase
TSÉ&TSÉ ASSOCIÉES
Inspired by Japanese ikebana, this vase glorifies the beauty of flowers by isolating each one in a tube. Articulated with metal rings, the April Vase adapts its form to the flowers it displays and the support it is placed on, giving every person the pleasure of composing a beautiful flower arrangement.The April Vase has a metallic structure with 21 interlocking glass tubes. You can also fragment the vase into distinct segments. Better still, if you're lucky enough to own several, you can stretch it out infinitely.