Laur Meyrieux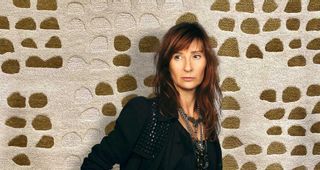 Laur Meyrieux established her diversity of skills as a designer, interior architect, creative director, scenographer. She focuses her creations on eco-design and 'handmade' design by developing her own wallpaper collection ; she creates carpets for the Toulemonde Bochart.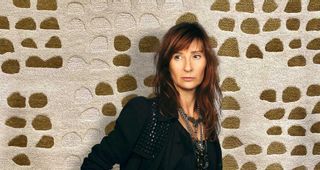 MANUFACTURE XXI
Luo large table
The Luo collection is made up of a family of objects created from the same molds thus reducing the ecological footprint of their manufacture. The base is entirely made of mortar, the top in aluminum coated with mortar and the fasteners in powder-coated aluminum.
METAPOLY
Dune L Pitcher
Discover the Dune collection imagined and handmade by designer Hugo Drubay. The Dune pitcher follows the mechanisms of the fluids that can be seen while walking along the water's edge. Simple, minimalist, astonishing by its technique, the dune pitcher will only sublimate your interior.Craftsman: Ceramist.Production: Moret-sur-Loing.Limited piece.Object signed by the designer & Metapoly.
KINTA
Amnis Glassware (green, smoked grey, bronze, rosy)
La collection de verres Amnis, conçue par Kinta, se compose de deux gobelets (250 et 300 ml), d'un verre à vin et d'une carafe (900 ml). Grâce à leurs lignes douces et à leur petit pied, les gobelets de deux tailles sont élégants et permettent de servir de l'eau avec style, avec la carafe assortie. Le design ondulé s'inspire du motif ondulé que vous voyez dans l'eau et le sable. Les carafes et gobelets en cristal sans plomb sont disponibles en 7 couleurs : vert, gris fumé, bronze, rose, menthe, bleu et verre transparent. Le verre à vin est disponible en 4 couleurs : vert, gris fumé, rose et ve
PYLOOW
"L'affection" wool & hemp throw
A very soft plaid for moments of comfort. Its natural wool coating gives it a teddy look. The thermoregulatory properties of wool allow the affectionate person to adapt to summer evenings as well as cool winter evenings. A variation of colors for all tastes, opt for a timeless plaid. Our throws exist today with our wool & hemp fabric combining the robustness and freshness of hemp, with the suppleness and softness of wool. A durable fabric that becomes silky over time.
GARDECO OBJECTS
Close Encounters
L'artiste et architecte de renom belge Stefan Schöning surprend une fois de plus avec une œuvre d'art magnifiquement abstraite et équilibrée. L'idée de Close encounters, une pièce en verre soufflé à la bouche, est née au début de la pandémie de covid-19. Les gouvernements ont pris des mesures qui nous ont permis de nous sentir en sécurité, mais aussi de nous sentir seuls et éloignés les uns des autres. Le désir d'être proche de ses proches qui a poussé Schöning à concevoir Close encounters. Plutôt que de représenter la distance, l'artiste a décidé de concrétiser le contraire : la proximité.
KHJ STUDIO
Polar
Pièce d'art en papier Hanji
METAPOLY
Yaki Side Table/ Stool
Yaki is the product of a singular encounter between a material native to Europe very present in France, beech, and a totally ecological Japanese technique called Yakisugi.Indeed, the duality that operates between raw wood and carbonized wood produces a strong sensitive contrast. The oppositions that are expressed through colors, shapes and textures make Yaki the own witness of her mixed-race inspirations. Each piece is coated with linseed oil in a way that restricts Yaki's ecological footprint as much as possible while ensuring its sustainability.
DCWÉDITIONS
NL12
1.30 metres long, weighing 7.6 kilos, composed of twelve borosilicate glass tubes, only available in black (70 cm high brackets), the NL12 pendant lamp is equipped with LED lighting (2700K).
MARUMITSU POTERIE
Tacca folding fan plate
Inspired by the shape of an opened Japanese folding fan, Tacca means cut line or indentation in Italian. The surface is zigzagged with an edgy texture creating a beautiful rhythm. With its platform base, the height of the plate adds a sense of luxury to any dish. Not only perfect for traditional Japanese cuisine like tempura and sashimi, but Tacca is also perfect for cut steaks or marinated seafood as well.
LAURENCE BRABANT EDITIONS
Collection U
Line of bowls and small plate with colored glass decor. Borosilicate glass, heat-resistant glass. Made in our glass studio.
MOSS SERIES
Galet G-111 Lamps
Our G-111 table lamps, in a minimalist and airy style, take on the design of Maison Isa Moss's creations. These lamps with variable lighting are composed of a grooved aluminum tube from which a discreet and functional light is extracted and a mouth-blown Italian glass pebble. This interchangeable roller can be adjusted according to your desires but also to the ambience of your home. Indeed, the G-111 rollers are available with several types of metallization: golden amber in gold finish, Crystal in Chrome finish and Metallic Chrome in black version.
Laur Meyrieux established her diversity of skills as a designer, interior architect, creative director and scenographer. She began her career as a designer in Paris and, fascinated by Japan, she moved to Tokyo to open her design studio. Her international career is marked by collaborations with emblematic luxury houses such as Hermès, Perrier Jouet, Shu Uemura... Her creations explore the ambiguity of forms between art and design and her style and sensibility have been nourished by her years living in Japan. Laur is now based in Paris and works as a creative director on interior design projects in Europe and Asia, she designs carpets for Toulemonde Bochart, she focuses her creations on eco-design and 'handmade' design by developing her own wallpaper collection.