Children's bedroom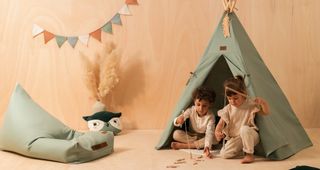 Once neglected and crumbling under the plastic of thousands of toys, children's bedrooms are now treated in the same way as other rooms in the house. With harmonious, well-thought-out colors and noble, durable materials, everything is done to soothe little ones and instill in them a taste for beauty.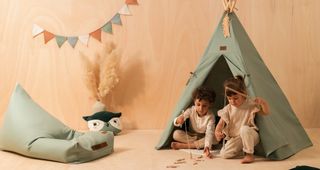 NOBODINOZ
Teepees
Iconic, the teepee has revolutionized the interior of modern families. If previously no one had imagined relaxing in a teepee, it is now present in many rooms as a key piece of the decor. Children own a space dedicated for them to play and relax. The Arizona teepee, the original, knows its success thanks to its many elegant graphic prints, but especially thanks to its quality : local manufacture and high quality materials (solid wood, 100% cotton Oeko-tex fabric), which makes it a long-lasting and timeless piece that will cross generations.
AUBRY GASPARD
Flowers storage baskets
Bring character to a children's room with this woven hyacinth storage basket set with its flower patterns. The set consists of a basket measuring 40 x 46 cm with lid and 2 baskets measuring 32 x 22 cm. The basket can also be used as a laundry basket.
ANZY HOME
Hooded Moses basket with macrame decor and rocking stand
We crochet the Moses Baskets using 100% cotton yarn made from an OEKO-TEX certified fabric. The design of our bassinets is inspired by the Scandinavian minimalist style. The authentic technique of crocheting by hand allows a simple and robust structure of the walls and handles of the Moses basket. The rocking stand is made of natural ash wood and covered with an eco-friendly oil coating. The sizes of the basket fit a baby from birth to approximately 4-5 months, weight capacity 10 kg. Different colors for bassinets and rocking stands are available.
CHICURA COPENHAGEN
Spinning Turtle Children's Room Decor Item - Small
THE TURTLE is associated with creation, fertility, and longevity. Its slowness is considered a sign of "slow festina," which means "hasten slowly." Therefore, it is designed with the round ball/soil on your back.When you move the figure forward, it rotates the earth slowly and gives you an additional reminder to slow.Product Properties: - Danish design. - Material: oak. -Produced from wooden scraps that are usually thrown away. Here, waste is transformed into small fine figures.
EGMONT TOYS
511110 - 511111 - 511112 COOKING SET IN A CASE
Ces valises contiennent tout ce qu'il faut pour préparer un bon petit repas. Les sets en bois de hêtre sont écologiques et de grande qualité. Il ne reste plus qu'à dresser la table et à inviter ses copains ! A partir de 3 ans.
BLOOMINGVILLE
Adiya Tray, Brown, Stoneware
Servez les friandises sur les plateaux Adiya de Bloomingville. Ces plateaux en grès constituent un set de 2 glands, émaillés dans un joli ton de marron avec de petits détails dorés. Ils seront du plus bel effet sur toute table de Noël ou lors d'autres moments conviviaux avec les personnes qui vous sont chères.
MAHE HOMEWARE
Wall Lamp Shell
Rattan wall sconce handmade in Indonesia by local artisans. Inspired by the shells of the sea, it brings a natural and marine touch to any space. Wooden turtle also available in our ALL YEAR CATALOGUE
MOONIE
Moonie - the magical soft toy with sounds & lights
Moonie makes babies sleep... and parents dream ! Choose between the 5 soothing sounds or the musical lullaby: In the womb of mummy * The wind* A stream under the woods * Waves* Rain Or the soothing lullaby Customizable built-in night light: A delicate light that soothes and reassures baby. Customize Moonie light with 5 soothing light modes & 7 colors to choose from. Intelligent crying sensor Moonie is designed and manufactured in Europe. Can be used from birth. Rechargeable by USB cable (included).
WOODEN STORY
Wooden Storage Crate On Wheels
Une caisse en bois transformera chaque pièce. Vous pouvez y cacher tous vos jouets et trésors inestimables ! Le nettoyage ne sera plus ennuyeux ni fastidieux. Un, deux, trois et c'est fait ! Surveillez vos parents... cette caisse est également parfaite pour leurs trésors... des vinyles, des livres, de la laine à tricoter ou des magazines qui ont tendance à être éparpillés dans toute la maison. Indispensable dans chaque maison, pas seulement dans les chambres d'enfants. Fabriqué en bois massif non imprégné.
LIEWOOD
THE BAXTER SERIES
A meeting between the soft and solid come to life in our series of furniture following our iconic Baxter Chair. Simplistic steel frames are made curvy to provide durable stability, while natural wood makes the solid surfaces to endure daily usage. A collection of timeless furniture to last across ages and spaces.
PANAPUFA
moses basket for a newborn, a cradle basket
a moses basket for a child, a cradle basket for a child will provide him with safety and comfort. Handmade from 100% natural Polish wicker