Pattern Factory - What's new? @Maison&Objet Paris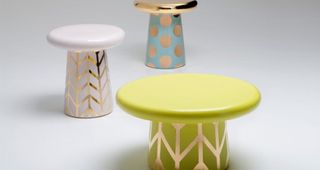 The pattern is making a strong comeback, its field is limitless, so to illustrate this year's theme, 'Enjoy,' Elizabeth Leriche dedicates her entire space to it: Pattern Factory. Discover it on MOM!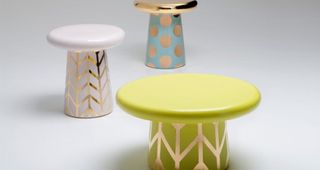 POPUS EDITIONS
Pamela lamp
An ancient Asian abacus, an unusual representation of what is probably the oldest calculating machine in the world, was the source of inspiration for the Pamela lamp. It was a very modern decorative object praising the science of calculation, and it was soon imagined as a lacquered wooden lamp, with a very seventies shape.
MAHE HOMEWARE
Green Stripe Tablecloth
Les rayures sont toujours une victoire. Décorez votre table avec des rayures de couleurs vives et créez une ambiance italienne « Dolce Vita » élégante et joyeuse. Il peut également être utilisé comme plaid, plaid ou couvre-lit.
HAOMY / HARMONY TEXTILES
BRAY cushion
Haomy presents BRAY Discover the new Haomy model! 100% cotton half panama embroidery Colors: White - Black - Cimarron - Caramel - Tobacco - Khaki
OBJET DE CURIOSITÉ
Our wallpaper collection
Here is a part of our wallpaper collection, more are available on our website.
BOSA
T-Tables
T-table is easy to hold and move around. Meant as an auxiliary table near a chair, sofa or lounger. It canbe used as a decor element or a support. It can be set alone or in a pack, reminding a bunch of mushroom in a forest
LES OTTOMANS S.R.L.
les ottomans new products
some of new products at les Ottomans
MAPOESIE - PARIS
Rugs
Home 2023- 100% Wool - 70 x 180 cm - 80% Wool 20% Viscose - 140 x 200 cm
COLORTHERAPIS
Custom rugs
Artistic, colorful and custom-made creations, designed in Paris in our studio.This rug is available in a tufted or hand-knotted version.Use of premium quality New Zealand wool Fully customised dimensions: possibility of square, circular and/or oval cuttingPossible insertion of high/low, viscose or silk patterns.Wool density adjustable according to customer needs (Hotel, co-working, private residence)Fully customizable colors, designs and designs at the request of the customer.
Patterns are back with a vengeance, and their scope is limitless. And so, Elizabeth Leriche has devoted her entire space to illustrating this year's theme, "Enjoy": Welcome to Pattern Factory. On its colorful façade, you'll find designs in a joyful clash of all kinds of shapes, colors, and inspirations. Assembled, mixed, and juxtaposed…dots, flowers, historical patterns, and stripes energetically celebrate life! Visitors are called to immerse themselves in a hypnotic hallway that's covered from floor to ceiling, before they discover five exercises in style that unfurl over five little alcoves. Artsy, ethnic, urban, garden-inspired, Pop…such are the many "grounds" to celebrate! Everyone can mix and match them as they like, to boldly express their uniqueness and free expression. And lastly, the exhibition wouldn't be complete without understanding how all these delights are made and what inspired them. It's all simply fascinating!