Wondernature - What's new? @Maison&Objet Paris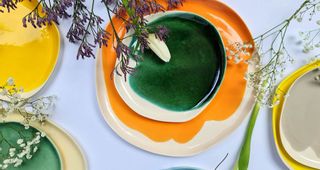 Reconnecting with our own deeper essence now involves an unprecedented alliance with the botanical world. Such is the observation made by François Delclaux, who has noticed that our biological environment is at the heart of contemporary concerns.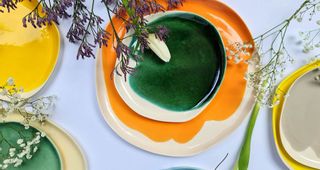 AUDREY JEZIC CERAMIQUES
Les Habitants de La Forêt
La genèse de ces sculptures est un rêve dans lequel des personnages anthropomorphes chevauchent des animaux sauvages. De cette vision poétique et fantastique sont nés Les Habitants de la Forêt, une série de plusieurs sculptures revisitant et enrichissant l'univers des Grands Dodus. Les Grands Dodus se transforment en gardiens mystérieux et magiques de la nature, vivant en parfaite harmonie avec les animaux sauvages. Pièces uniques et petites séries entièrement modelées à la main.
BOURG-JOLY MALICORNE
Feston Plate with hand painted Pouplard Fruits decoration
Beautiful earthenware Feston plate with Pouplard Groseille à maquereau hand painted decoration entirely handcrafted by hand by our master craftsmen. We are proud to continue producing our plates using the traditional 18th century techniques. The decorator paints freehand on the raw enamel, applying oxide-based colours with a brush, a technique dating back to the 18th century, which allows for the complete fusion of the decoration and the enamel. Dimensions: 1006: D28.5cm Dinner Plate / 1001: D25.5cm Plate / 1002: D22cm Dessert / 1003: D18cm Cake
ILEX STUDIO
Avocado Vase
Your love of avocados can thrive long after eating one; just save the seed, grow it and discover the extraordinary tree inside with the innovative Avocado Vase. We have refined the traditional method of growing, skipping the toothpicks, and utilizing the opening to cradle the seed keeping it dry as it sprouts and encouraging the roots to flourish freely. The sinuously shaped vase magnifies the roots as they prosper; creating a perfect focal point to witness the plant as it develops.
HUAGES CBD
PURE 20%
L'huile PURE combine le goût unique du chanvre aux nombreux bienfaits du CBD pour se sentir relaxé et apaisé, en quelques gouttes. Cette huile est déclinée à 5%, 10% et 20% de CBD afin de vous proposer un dosage adapté à chacun. Quant à l'utilisation : Directement par voie orale, en déposant quelques gouttes sous la langue. La voie sublinguale permet une action rapide : les vaisseaux sanguins présents sous la langue absorbent directement le CBD. Les premiers effets du CBD peuvent être ressentis entre 5 et 30 min après une prise sublinguale.⁠L'huile peut aussi être appliquée de manière cutanée.
AERY LTD
Aromatherapy Soy Candle
Disponible en 9 parfums : Happy Space, Good Vibes, Positive Energy, Before Sleep, Fortement médité, Eternal Optimist, Dream Catcher, Sleep Happy et Retreat.Huiles essentielles | Sans plastique | Sans OGM ni palme | Cire 100% végétale Vegan | Sans cruauté | Non testé sur les animauxEmballage entièrement recyclableBrûlure de 45 heures | Poids net 7 oz 200 gFabriqué en AngleterreÉgalement disponibles en coffrets cadeaux, diffuseurs, brouillards d'oreiller, brumes d'ambiance et sels de bain
JONATHAN AUSSERESSE
Contemporary Glass Sculpture Set - Green
Ensemble de sculpture en verre de la collection FLUENCE, réalisée grâce à la technique du verre émaillé à la main. La base est en pierre volcanique de Volvic (France-Auvergne) ce qui lui confère une excellente stabilité. Chaque pièce est totalement unique, signée, numérotée et livrée avec un certificat d'authenticité. Cette couleur ambre/topaze est particulièrement étonnante, et pourra être apprécie différemment au cours de la journée, lorsque la luminosité varie. Il est conseillé un rétro-éclairage indirect pour mettre en valeur la profondeur du verre.
MICKI CHOMICKI HAIR BRUT
GAL
melancholia suspended lamp
MIHO UNEXPECTED THINGS
Wild Nature - Silicone vase handmade in Italy
Colorful flowers are blooming on this precious silicone vase! It is not only fun and unusual, but stylish and practical as well. Entirely handmade in Italy, a real unique piece. Please, note: due to the handmade nature of the product, each item has a unique flower pattern. Color range stays as in pictures.
POTTERY AND POETRY
Porcelain dinnerware
Explore our best-selling plants, uniquely designed to suit your personal style and preferences. Each set is meticulously made to order and can be customized with the colors of your choice, giving you complete creative control. The material is soft ivory white porcelain, food safe, perfect for everyday use and dishwashing. Professional line for restaurants.
SOPHIE LULINE CÉRAMISTE
\" Eclosion 1\" porcelain sculpture
unique piece made of porcelain, entirely handmade. Signed piece. When time stands still, ideas abound and nature takes back its rights. this collection is like the testimony of an unprecedented space-time.
ÉQUILIBRE CBD
Huile CBD 1000mg + fleurs d'immortelles
Une huile CBD pour soulager l'anxiété chronique, les douleurs intenses et régulières et favoriser l'endormissement.Notre huile CBD 10% full spectrum est enrichie aux fleurs d'immortelles pour une synergie aux multiples vertus. Elle est extraite par CO2 sous-critique pour une qualité et une pureté inégalées. Faites l'expérience du meilleur des huiles CBD grâce à notre méthode de production unique et transparente. Offrez-vous le meilleur pour votre santé. 🥦
Reconnecting with our own deeper essence now involves an unprecedented alliance with the botanical world. Such is the observation made by François Delclaux, who has noticed that our biological environment is at the heart of contemporary concerns. How should we be making things? How can we preserve life on Earth? These urgent questions, even now in our everyday lives, require us to reconcile historically opposing concepts such as the city and the countryside, nature and culture, heritage and modernity, or what's natural and artificial. City-dwellers are redefining their relationship with all things natural. The need for green space and flowers is an essential part of our well-being. This awakening is leading to the search for a new sort of harmony within our interiors. Our living spaces are, of course, impacted by this quest, which takes on a poetic dimension and may become a source of wonder and joy. Wondernature. A new form of hedonism emerges from this call to consciousness. It's simply enchanting!