Post-Fair Discovery: decorative items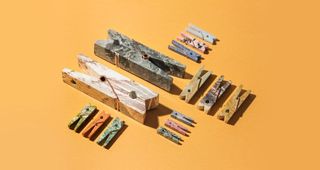 Our September edition has just come to a close, and once again this season, contemporary design has shone with its creativity and the quality of craftsmanship on display. Discover here our selection of the most beautiful objects spotted at the fair.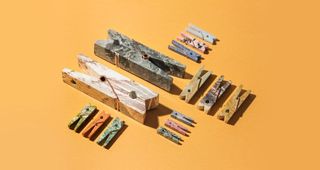 DAR PROYECTOS
Gemstone Laundry Clip - Set of 2
Carved from colourful Andean stones for an exotic twist on the familiar Laundry Clip. Delightfully included in best of lists on the New York Times, New York Post and Sight Unseen. The two arms of the clip are carved from one piece of stone, perfect for capturing your most luxurious laundry, hanging art, organizing business cards and love notes alike. A luxurious and whimsical gift, as no two clips are alike!
STUDIO GAÏA
La boîte à mouchoir Anne - Onyx Rouge
La boîte à mouchoirs Anne en onyx rouge est un accessoire élégant et fonctionnel conçu pour ajouter une touche de sophistication à tout espace. Fabriquée à partir d'onyx rouge de haute qualité, cette boîte à mouchoirs allie la beauté naturelle de la pierre à une conception pratique pour répondre à vos besoins quotidiens.
PANISA OBJECTS
Stitched Trays
This stitched tray is the marriage of a playful wooden loop and a functional everyday object. The tubular wood "stitched" edge serves as a handle and helps raise the tray. They can be used as fruit bowls and catchalls. The Medium and Small Trays Can Be Stacked.
ABLO BLOMMAERT
Wall decor. Rest & Pause
Wall decoration with print and mount, with a chamfered wooden frame.
HOME WISH STUDIO
Table / Glasses / Chandeliers / lamps / vases
Table / Verres / Lustres / lampes / vases
GARDECO OBJECTS
Cadzand
Cadzand is a ceramic art object by the Belgian artist Vicky Courtens. It is inspired by the breakwaters in the Dutch seaside town of Cadzand. The piece radiates timelessness and surprises the beholder with its minimalist and eye-catching design that invites to take a closer look. This design objects are manufactured by hand in the artisanal ceramics studio Arte Factory at the west coast of Portugal. Cadzand is available in black, metallic and white. Small differences in colour and size are a natural result of the artisanal manufacturing process.
TUTTOATTACCATO
Copacabana Handpainted Ceramic Vase
Inspired by the sidewalks of Rio de Janeiro beaches, the Serlio 'pattern' collection evokes the artist's emotional connection with Brazil. A unique ceramic carafe fully hand-painted where the pattern wraps around the entire vase finished with a matt glaze that highlights the artisanal details. Bring some tropical joy to any table.
IBRIDE
BIANCA - Wall Tray
Bianca, a loving and protective mother figure, protects her lineage with vigilance. The honesty of her feelings cannot be questioned. But where does this intriguing detail from the palm of her hand come from? Bianca is a large tray, used for serving guests, which can then be displayed freely on a wall like a pictorial work, a mythological painting.
REFLECTIONS COPENHAGEN
Apple Bonbonniere
Our Apple bonbonniere is made in emperador marble with a green and clear crystal top. This bonbonniere brings a special and exciting glam and fits perfectly in any home interior. The bonbonniere makes a perfect little place to store things for yourself or someone special.
CERABELLA
DINNER CANDLES
Les bougies de chandeliers sont un classique de Cerabella. Une grande variété de bougies avec deux finitions, mate ou brillante, disponibles dans de multiples designs, différentes tailles et une gamme de couleurs saisonnières, qui habilleront votre table de manière unique, créant une atmosphère sophistiquée et élégante grâce à leur douce lumière.
ETHNICRAFT
Houses collection
No matter what 'home' means to you, it is surely something nostalgic. Home is not a place, it's a feeling. The textured wood and carved details reveal the best of our artisan's woodworking know-how to create intriguing objects full of meaning.
ELDVARM
Cooper Fire dogs
Our Cooper Fire Dogs, inspired by historic cast andirons, feature a modern, minimalist appearance. Cooper is the ideal companion for your burning fireplace, with a lightweight yet stable structure and a sense of playfulness. Available in two versions, Noir (charcoal black powder-coated steel with brass details) or Lumière (stainless steel with brass details). They also come in two lengths: Small (30 cm) and Large (45 cm).
DAR PROYECTOS
Cone Everything Box
The cone everything box catchall box is a carved using traditional wood carpentry techniques in Magdalena de Cao, Perú. The sphere-shaped gemstone handle is a geometric element that makes the moment of opening it up feel extra special
YLUSTRE
Marie-Antoinette Burner
Ylustre a développé ce brûloir en porcelaine de Limoges pour ses billets doux parfumés. Un bol sein d'une grande délicatesse. Un cadeau élégant et décalé. Rehaussé d'un décor peint à la main et d'un liseré d'or mat et brillant, cet objet polisson est inspiré par la commande que Louis XVI a effectué auprès de la Manufacture de Sèvres pour Marie Antoinette. Décor peint sur la face extérieur. Taille : 90 mm de diamètre ; 50 mm de hauteur. Pied en forme de bague diamètre 20 mm, hauteur 6 mm. Fabrication France.
IBRIDE
GOOD HANDS - hangers in the shape of hands
Ibride partners with designer Elsa Pochat to create a line of wall hooks in the shape of hands paying tribute to the craftsman's gesture. The marquetry, wood and metal elements evoke the contact between hand and material.
AINA KARI
The Hug of Artisans
Palissandro marble embracing Murano Glass in a twisted double candlestick holder for one of a kind Italian design piece.The HUG of Italian Artisans
IBRIDE
Ming Muse - stackable tableware
Material: Food melamine 1 bowl Ø22, 1 bowl Ø21, 1 dish Ø22, 1 bowl Ø14, 1 bowl Ø11 and 1 bowl Ø7Made in AsiaDishwasher safeNo microwave***Its pure shape pays homage to the famous eponymous Asian vase, but its graphic content is a completely different story... Ming is a stacking of bowls and salad bowls to be used daily to serve small dishes and salads or to stage the appetizers.
POLSPOTTEN
Coral Vase - Tulips
Le vase Coral de Norman Trapman pour POLSPOTTEN est une véritable icône. Norman s'était fixé pour objectif de concevoir quelque chose de similaire à un vase tulipe bleu de Delft du XVIIe siècle, mais différent. Le résultat est une forme de corail intrigante, avec de larges trous pour que les fleurs puissent s'intégrer facilement. Matériaux : porcelaine émaillée blancheDimensions : 230-205-018 - 10 tulipes L25 x L20 x H35 cm230-205-019 - 20 tulipes L30 x L18 x H45 cm230-205-020 - 50 tulipes Ø40 x H60 cm230-205-059 - Récif L40 x L16 x H24 cmCréateur : Norman Trapman
NOVOFORM
Sparrows, smoke stained oak
Mama, Papa and Baby Sparrow is a tight-knit family and they take good care of each other. The sparrows can do well individually, but always feel the best when they are close together. The sparrows are handcrafted in solid oak by skillful woodworkers, with an eye for detail.
GARDECO OBJECTS
ITA Vases
The minimalist vases ITA 01 and ITA 03 are made from milled Brazilian soapstone and designed by siblings Susana Bastos and Marcelo Alvarenga. Inspired by the indigenous Tupi peoples of Brazil, the designers decorated the vases with wood and brass ornaments that refer to the traditional Tupi body accessories. Besides this, the word ita in Tupi language can be translated in English to stone. Soapstone is a naturally porous stone that should not be used with water or any other liquid. The colour of soapstone can vary from a gentle beige to bright blue and silvery grey.
OOBJE
Tiny Decorative Object
The Tiny mirror is a decorative and functional mirror made up of small shapes, offering a fun and playful purpose.
HELIO FERRETTI
BALLOON DOG CANDLE HF
Balloon dog candle is a decorative candle molded to resemble a dog made of balloons, consisting of several connected spheres. The balloon dog candle is commonly used as a decorative element at parties, celebrations, or as a playful accent in home decor. It adds a touch of fun and joy to any environment. Measures: 13,5x5x10cm
REINE MÈRE
Kagami | mirror and pocket
Le Kagami sublime vos bijoux en toute simplicité. Les formes arrondies de sa base et de son miroir à main vous invitent à un apprêt tout en douceur.
IBRIDE
QING ALHAMBRA - stackable dishes
The story of the Alhambra line is inspired by the Spanish palace of the same name. In the course of the three Faux-Semblants models, the narrative of this place steeped in myth and legend is revealed, where the luxuriant vegetation of the palace blends with the melancholic face of a woman.Through Yuan, Qing and Ming Alhambra, Rachel Convers anchors the memory of the almost forgotten princess and creates a complementary universe to be discovered through the table services.
JONATHAN AUSSERESSE
Contemporary glass sculpture set - amber
Glass sculpture set from the FLUENCE collection, created using the technique of hand-enamelled glass. The base is made of volcanic stone from Volvic (France-Auvergne) which gives it excellent stability. Each piece is totally unique, signed, numbered and delivered with a certificate of authenticity. This amber/topaz color is particularly surprising, and can be enjoyed differently during the day, when the brightness varies. Indirect backlighting is recommended to highlight the depth of the glass.