darc magazine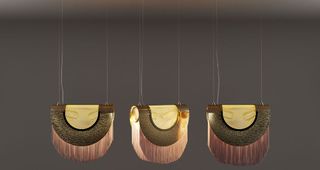 Launched in October 2012, darc is the only international magazine dedicated to decorative lighting in architecture and interior design. It focuses on projects and products of the highest quality and is aimed at those at the forefront of creative design. Discover darc's editorial selection on MOM!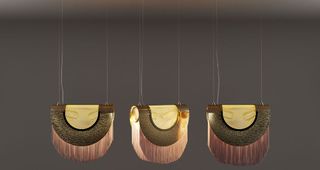 NEOZ FRANCE
LAMPE DE TABLE EXTÉRIEURE TALL POPPY
The Tall Poppy wireless lamp provides direct, downward light in a slender ribbed shape. A new LED disk light source projects light evenly, broadly, and without glare. The Tall Poppy Nomad Light is constructed of die-cast metal ensures durability and is available in a range of galvanized and painted finishes. The Victoria rechargeable lamp is intended for outdoor lighting and indoor lighting.
CATRINEL SĂBĂCIAG
Aurora lamp
Aurora is a luminaire that seems alive and is inspired by the fascinating play of the Northern lights. It displays a dynamic pattern of brilliant lights, an ever-changing dazzling light and color spectacle. The light intensity and shades can be changed using an RGB fixture, however, the unique light effects are obtained using o special Plexiglas coating. Through our Smart and user-friendly app, you can become the designer of your own light show: The lamp can be controlled by remote or by an app, as well as Alexa Google Home Assistant, and Siri.
JAUNE FABRIQUE
ALTO - Smart table lamp - with speaker
Alto is a connected sound lamp that is recognizable by its angled cap, its monolith base to drive the music, and its massive rotating cylinders to adjust the light and volume of the speaker. Made in France, it offers well-thought-out variable lighting. Alto includes a powerful and qualitative compact connected speaker. Aluminum body, gold-tinted brushed cylinders and shaft. Variable LED lighting: 0 to 1000 lm. Sound power 25 Watts, up to 35 m2. WiFi (Airplay, Spotify connect), Bluetooth, Jack IN. Available in black, deep blue, and terracotta.
MOAROOM - DAVID TRUBRIDGE
Lighting Pendant : Lamp CORAL
Inspirés de la nature, ces luminaires aux lignes intemporelles s'inscrivent dans une logique durable et respectueuse : une quantité minimale de matériaux issus de forêts gérées durablement, et un design leur permettant d'être livrés à plat afin de minimiser l'empreinte carbone lors du transport. Ils sont fabriqués dans l'atelier du designer David Trubridge, en Nouvelle-Zélande, et sont entrés dans les collections de grands musées internationaux (notamment le Centre Pompidou). Plusieurs dimensions : diamètre 60cm, 80cm, 100cm, 120cm, 160cm disponibles. Plusieurs options de couleurs
CREATIVEMARY
Denver Wall Lamp
The curved arm supports a brass-capped clear glass capsule, and the tapered perforated lacquered metal lampshade from within provides a softly and dramatic diffused light effect. Coordinate alongside ceiling lights, the Denver wall lamp provides supplemental illumination while decorating the interior.
PORUS STUDIO
Portman Suspension Lamp
With the Atlanta Marriott Marquis in mind, Porustudio designers created the Portman suspension lamp. The Marriott's atrium spans the entire height of the building and consists of two vertical chambers divided by elevator shafts and bridges. The beautiful view and the visual effect in layers of the atrium inspired Porustudio to design this modern suspension lamp. Combining aged brushed brass shade and accents and polished brass movable rings, this suspension promises to be the masterpiece of your living room.
CREATIVEMARY
Seoul Suspension Lamp
Inspired daily by the cosmopolitan world, Creativemary designers conceived the modern Seoul suspension lamp. Featuring balanced proportions, each lampshade is made of perforated steel combined with flow silk fringes. The decorative fringed suspension lamp will drive by its aesthetic qualities as well as the way it delivers both functional and textured light into a trendy scheme.
GOBOLIGHTS
IRIS I wall lamp
L'arc-en-ciel qui relie la Terre et le Soleil. Inspirée par l'Art déco, la collection « Laiton et opalines » est une ode à la simplicité. Des luminaires / suspensions aux lignes pures où les formes et les courbes géométriques sont à l'honneur. Le laiton et le verre sont les deux seuls matériaux de cette collection. 1 opalines soufflées à la bouche (x 12 cm de diamètre).1 x LED E14, 750 lm, 2 700 Kelvin, 6 W, intensité variable. Conçu et produit en Belgique. Délais : 4-6 semaines. Veuillez nous envoyer une demande pour du sur-mesure et les frais d'expédition
MOSS SERIES
Bubble Fiber Optic Bubble Chandelier
The B7 chandelier uses innovative and remarkable technologies. It takes up the concept of the accumulation of glass bubbles to form a sculptural and airy suspension. These seven floating and almost light bubbles are designed and manufactured by hand, they transcribe and exploit the natural reflection qualities of pure glass allowing excellent diffusion of light. The size of the bubbles has been carefully studied in order to increase this sensation of an ethereal soap cloud. The fine and translucent optical fiber brings an exclusive and captivating dimension.
GLASS VARIATIONS
Lampe de table HELIA collection ENJOY
During Paris Design Week and Maison&Objet, Glass variations reveals the ENJOY collection with 5 colours for our iconic HELIA table lamp. After white and powdery pink here come the new shades: ice-blue, straw yellow and nature green. The corrugated and curved «flute» glass columns and the lampeshade in coloured satin-finish glass allow the light to burst. Designed by the talented Bina Baitel and manufactured in small series in our workshops near Lyon, it is also available in UL wiring for the USA.
darc is the only international magazine focused on decorative lighting in architecture and interior design. The magazine emerged in October 2012 and has continued to grow at a fast pace ever since. It focuses on the best quality projects and products and hears from those at the forefront of creative design. Edited by Sarah Cullen, the beautifully presented magazine is supported by an equally impressive website and regularly keeps its subscribers up-to-date with all the latest decorative lighting design news via newsletters and social media posts.
https://www.darcmagazine.com/