Patrick Jouin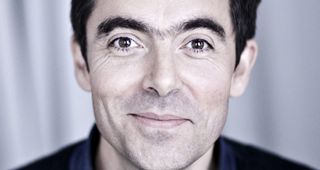 With the top manufacturers, Pedrali, FIAM or Fermob, and for exceptional projects, Patrick found a place in the landscape of international design where only few know how to evolve with both ease and strength as he does. Discover his selection !
Humaniste
EXTRANORM
Humaniste supports man while waiting for mankind. Humaniste will fit everywhere. Everywhere you need a comfortable low chair to meet, take a coffee with friends, play games. Its structure is in anthracite grey powder-coated steel. The seat can be covered with Kvadrat Harald 3 velvet, Steelcut trio 3 fabric, Coda 2 fabric or also a faux leather ideal for contract from Spradling. The wooden back is made of american walnut, natural oak or black oak (mat finish). Made in France
Matmatic stool
JONGHLABEL
Jonghlabel combines innovative design with artisan production techniques. This craft is known for its use of rattan and the hexagonal pattern. The material, rattan, is fixed due to the craft. Innovation occurred by experimenting with new patterns, coloring experiments and rattan techniques. The collection is completely made out of rattan which has been reinforced by injecting it with a natural resin. While honoring the traditional crafts, these innovations are brought together in a specially designed collection. All furniture – from carpentry to caning – is handmade.
BUNACO SPEAKER designed by nendo
BUNACO
In order to make the best use of clear and soft sound produced by Bunaco, the speakers stand vertically non-directional style which creates a more extensive realism in sound and allows the beautiful wood grain to stand out. By purposely loosening the end of the beech wood tape, it became a design that intuitively conveys an elegant structure and the craftsman's technique to people who have never experienced a Bunaco product. Enjoy the quality of sound and presence interwoven by BUNACO's technique and nendo's design.