Marie-France and Stéphanie Cohen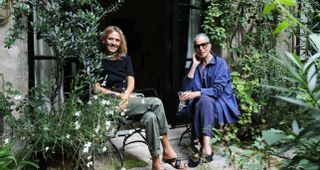 After creating a brand (Bonpoint), style, venues, concepts (Merci), and after selling Merci, Marie-France Cohen has joined together with her daughter-in-law Stéphanie Cohen and their friend Elysa Masliah to write a new chapter in her story, Démodé. Discover the inspiring selection of Marie-France and Stéphanie Cohen!
Lune & Satellite
DCW EDITIONS
Long-time admirers of the work of Éric de Dormael, we were always delighted to work together on some special upscale projects. But this year, we are also going to edit some of his work that we consider so unique and very special indeed. These " sculpture lights ", characterised by their fluidity, their ethereality, their form and their transparency, are all about the subtle interplay of light and shadow. The reflections, shimmers, patterns and vibrations they create dance off the walls. Éric de Dormael's creations bring forth images, they leave impressions and they provoke sensations.
rocking chair
VALERIE_OBJECTS
Fien and Hannes made their iconic seats with a leather cloth spanned between two horizontal bars. After that, they designed the rocking chair which is constructed by the same principal. Just as with all Muller Van Severen's designs, transparency is key. And so it swings through the space of the interior without ever covering the background. Available in a bleak leather that turns dark-brown over the years with a green frame, or in 3 different color options with a fabric in 100% linen.