Christophe Adam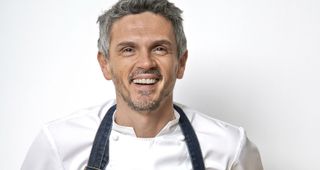 Christophe Adam launched, in 2012, L'Eclair de Génie, a concept entirely dedicated to éclairs, which he knows how to make like no one else. Discover his inspiring selection of products!
SAÏDIA
NEXEL EDITION
Dans les années 60/70, Saïdia était une petite station balnéaire. Nous passions des heures sur la plage à nous baigner, à remplir nos maillots de sable, à ramasser des tellines à la main et à manger des tonnes de glace au citron. Dans la cuisine de la maison, il y avait une suspension en métal émaillé dont l'ampoule attirait les papillons de nuit. Nous avons revisité ce produit avec une petite touche de laiton.
S - XL
GRATTONI1892 MADE IN ITALY
Unique pieces created by a wooden board, never the same, always different. From one piece, many pieces to use according to your needs. You can customize them with a dedication or a company logo. Gift packs are available or natural fiber bag for a special gift.
Oxford Chair
Emotional Projects
Oxford functional chair is inspired by the Classic City of Oxford. Most known worldwide as the home of the oldest University in the English-speaking world. This simple, yet elegant chair is made of textiles, which you can choose between our high-quality finishes, such as leather and upholstery. Oxford Chair can be perfectly customized and tailored for your interior design project, you can decide between wood or metal legs, to fit in your hotel dining room or in your office project.