CORK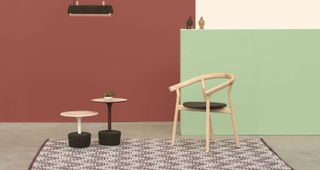 Selection M&0
A truly playful material, cork allows for all sorts of decorative experimentation. Very eco-friendly, inexpensive, malleable, and durable, it's being used for furniture and for lighting, paper goods, or accessories, both indoors and out. Light-colored or dark, it suits all decorative style, from the most contemporary to the most rustic.
Decorative cushion Pihlaja
ELENA KIHLMAN
Decorative cushions made entirely by hand by the designer with the Australian technique "Nuno" which consists of felting merino wool inside the tissue. The refined high quality design element gives to the house elegance and refinement, with a touch of extremely original color. The designs are produced using merino wool, silk and alpaca. The base material is linen. Each proposed model can be customized in size and color. Hand wash or at 30 ° washing machine, delicate program, no spinning. Dimensions: 50x50cm 65x65cm 40x60cm
Poov Pouf
CIDER EDITION
Poov is a culbuto pouf designed by Valentine Fix-Masseau for Cider Edition. This occasional seat perfectly meets the current tertiary requirements of nomadic and playful furniture. Poov is a moving pouf that offers many advantages: a lightweight occasional seat, easy to handle and move thanks to its practical handle, nice, funky ... A small essential sitting companion, which oscillates according to the days, floating on the surface of the ground, and always ready to support an impromptu exchange between colleagues!