The return of Terrazzo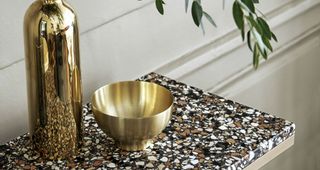 Long used as only a floor covering, this material created in ancient times is back in force and is scattering objects and furniture with its speckled charm.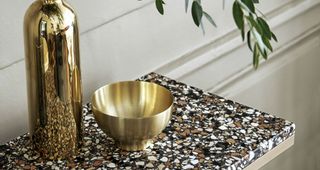 RED EDITION
Horizon Console
Placed against a wall, the Terrazzo Console appears tall, sleek, and narrow. It's perfect for placing decorative objects such as vases, catchalls, and snuff boxes in an entryway, salon, or bedroom. Sizes : Small or Large Colors : Bianco terrazzo or Statuario ceramic.
ISIDORE LEROY
AMAZONE NATUREL
This wall decor is inspired by the amazonian jungle. Joyful animals inhabitate the forest and will create an exotic and natural atmosphere on your walls. Available in Bronze grey, Blue, Mahogany, Natural jungle, and custom colors :) This design was created with the brand Alexandre Turpault, which offers is on beautiful tablecloths and other textile items. Repeatable panoramic for endless decors (use alternate versions for very long walls). Also available with Panther.
CAMILLE & CLÉMENTINE
Bol Terrazzo
The terrazzo pattern is inspired by terrazzo 50's floor, composed by marble slivers. The "ears" of bowls are inspired by a traditional shape of french bowl.
MARAZZI
Marazzi Pinch
The beauty of "Venetian terrazzo" or "Venetian Seminato", the classical flooring made up of even very large-diameter pieces of marble and stone, is evoked in Pinch, a porcelain stoneware collection that accurately reinterprets its details, colours and patterning. Its architectural potential is extended by a wide assortment of glossy and matt mosaics in all colour variants. One particularly high-value feature is the "Lux-mix" mosaic, a patchwork of colours and surfaces for combination with all collection variants and ideal for creating wall panels or defining specific areas of a floor.
BUZAO
Pieces
PIECES is a terrazzo pendant light using free-assemble structure and flat-packed packaging. PIECES is a material regeneration experiment using wasted tiles to make terrazzo, so that the waste materials could be put back into use on general public level in the form of derivative industries, and become everyday furniture that can be produced in a large scale.
EKERO CONCEPT
CEREALL HOOK
Cereall Hook is a playful coat rack designed to be fixed directly on the wall. The hook is comprised of 3 pieces: a wooden part, made from leftovers in the furniture workshops, a terrazzo part and a brass screw, which attaches the first two layers. It can be employed in a group or it can be used as a single piece, being a disco-friendly addition to a space, whether it will be exposed in an entrance hall, a bedroom, a public space or an office. The only thing Cereall Hook demands from you is that you uncover it every now and then to admire its shape and materiality.
TOULEMONDE BOCHART
VOLCAN Rug
This Volcan rug is a real firework display of colors and shapes. Its implementation technique allows for very fine patterns with a rendering close to those of a hand-knotted carpet. The warm colors will soften a decor, and the distribution of colors will allow you to play with different colored spaces. Knitted in a polyester yarn, the velor is resistant and easy to maintain.