Emma Elizabeth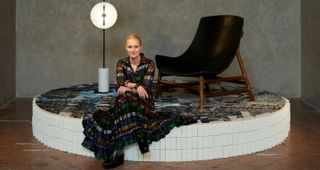 As a 2006 graduate in 'Scenografia' from Istituto Europeo di Design in Milan, Emma Elizabeth is a highly innovative designer, stylist and creative director. Discover her inspiring selection on MOM!
ASSEMBLE by destroyers/builders
VALERIE_OBJECTS
The ASSEMBLE sofa designed by destroyers/builders encourages exactly what its name suggests: to assemble your own sofa. The asymmetrical cushions are assembled into different sofa-elements. There are single seaters to choose from, two-seaters, corner elements, poufs and side tables to play around with. This sofa was developed to be neither too firm, nor very soft. "This universal fit was a very important feature in my design process", says Linde Freya Tangelder, the woman behind destroyers/builders. Form-wise the ASSEMBLE was inspired by weathered pebble stones, by ground glass or the remains
Wind Low tables
MATIÈRE GRISE
Wind: 3 tables, 3 geometrical shapes on the surface of which folds are drawn, like a wave on the water under the effect of the wind. The composition by 3 allows all the play of colors, from the softest to the most intense. All you have to do is choose from our palette of 40 colors. Indoor version only. Made in France
Cup Cage - Pouf with integrated tablet
CIDER
Cup Cage is a superposition of cushions superimposed in a cage, where the volumes of foam are sublimated in the manner of crimping jewels. One of the arms creates a small work table to meet nomadic working needs. The superposition of the cushions gives Cup Cage his graphic rhythm and its resolutely contemporary style.