Precious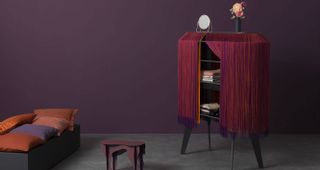 Selection M&0
Velvet, brass, gemstones, silk, or hand-blown glass…This season, decor becomes like precious jewelry, with rare materials and chic, plush shades of color. A fringed sideboard, a translucid bathtub, or a bejeweled table: it's magic time!
Fringe Cabinet Alpaga
IBRIDE
Half animal, half vegetation, the presence of the new ibride piece of furniture is puzzling. This mysterious piece of furniture seems to breathe under its long silky coat. You find yourself touching it, styling it, sliding your hand inside to discover what hides this cascade of lianas. In its centre beats the heart of the party : wine glass, champagne flutes, shaker, carafes, alcohols and liqueurs are carefully arranged there. This creation by Benoit Convers is designed primarily to celebrate the moment to live, the moment to share.
STUDIO ROOS KALFF
POP CORN
For all its projects, ROOS KALFF uses vintage glassware as basic elements. Each piece created is unique and handmade in their workshop in the Netherlands, with particular care in the selection of the different elements that make up the final object. ROOS KALFF recycles the old object to reinvent a new shape and function in a collection of suspensions, candlesticks, centerpieces or even original and elegant glasses.