Recycled materials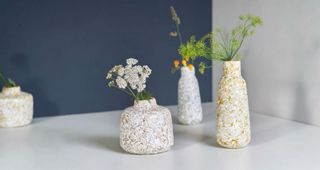 Selection M&0
Nothing is lost, nothing is created...everything simply takes on a new form! This famous phrase from Lavoisier has never been so fashionable, like these new kinds of objects…
Capiz pulp vases and flower pots
KINTA
Kinta has a collection of smart, sustainable accessories, made from recycled materials. The result of a unique cooperation of Kinta (design and concept) and our producer. This vase is based on a discarded water bottle, in combination with paper pulp and capiz left over, creating a new unique and functional product. The capiz pulp has been grinded resulting in a marble effect or designed with characteristic folds. The handmade waterproof vases and flower pots are available in several shapes, sizes and colours.
DROPLET SUSPENSION
POP CORN
The DROPLET pendant uses vintage glassware as basic elements. Each piece created is unique and handmade in the Netherlands, with particular care in selecting the different antique elements that make up the final object. Recycle the old to reinvent a new form and function in a collection of suspensions. E14 bulb covered with an opaque glass paste shade _ Transparent cable 2 plugs/2 meters _ Material: Vintage glassware _ Each lamp is sold individually.
Skateboard Jewels
SIMONE FRABBONI
Jewels made of resin and recycled skateboard wood. Handmade by us in our workshop in Italy. Rings, earrings, chains and cuff links. Also the resin is handmade and paste-dyed, we choose the colors according to the colors of the wood from the skateboard tops. Our work on color for this collection has been recognized by Pantone, which has included the last colors of our rings in "Pantone Home View 2023", their publication about new trends. Rings available in 5 sizes.