Recycled materials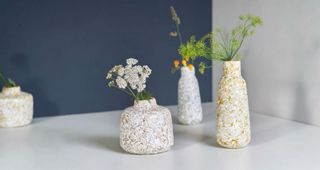 Selection M&0
Nothing is lost, nothing is created...everything simply takes on a new form! This famous phrase from Lavoisier has never been so fashionable, like these new kinds of objects…
Capiz pulp vase and flower pots
KINTA
Kinta has a collection of smart, sustainable accessories, made from recycled materials. The result of a unique cooperation of Kinta (design and concept) and our producer. This vase is based on a discarded water bottle, in combination with paper pulp and capiz left over, creating a new unique and functional product. The capiz pulp has been grinded resulting in a marble effect. The handmade waterproof vases and flower pots are available in several shapes, sizes and colours.
STUDIO ROOS KALFF
POP CORN
For all its projects, ROOS KALFF uses vintage glassware as basic elements. Each piece created is unique and handmade in their workshop in the Netherlands, with particular care in the selection of the different antique elements that make up the final object. ROOS KALFF recycles the old object to reinvent a new form and a new function in a collection of pendant lamps, table lamps.
CANDLES
Q DE BOUTEILLES
Our candles are the materialization of childhood memories shared with our grand-parents, of a trace of happiness. Hand in hand with "Noses", master perfumers from Grasse (South of France), we've turned our souvenirs into fragrances to create those three candles. Those moments of life are poured in our workshop, right where our containers are manufactured, with the same care as our glasses and vases. We have chosen a vegetable wax, made out of European rapeseed.