New Country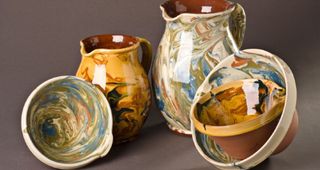 Selection M&0
This season, decor leans toward a return to realness, authenticity, and a rustic feel. And so, we're inspired by life in the country, opting for truly robust furniture, terracotta-style flooring, natural, durable materials, and kitchen utensils in wood or glazed earthenware.
Olive wood utensils
VAN VERRE
Did you know that olive trees can live for hundreds of years and take a long time to grow? When the trees eventually stop producing the good fruit, the wood becomes a sustainable material. With great respect for the environment, these aged olive wood is carefully laid to dry. A patient and careful process to achieve an original and durable product. Olive trees are the most symbolic trees of the Mediterranean and represent purity and wisdom.
100% HAND WOVEN LINEN FABRICS
STUDIO NATURAL
Handcrafted. Custom order - width, length, design. Our hand woven linen fabrics are designed for different tastes and professional needs. They are highly appreciated especially by fashion designers, architects and seamstresses. Transparent and tight, weaved using combined techniques – mixed with wool, silk, viscose, mohair and other natural materials, fabrics interwoven with boucle or metallic threads, starched or pre-washed, ironed or crumpled, embroidered. We produce hand woven linen for all tastes.
"BY AGNES EMERY/PAR AGNES EMERY"
EMERY&CIE
Finally, a reference book entirely designed by Agnès Emery, Brussels architect and designer behind the EMERY & Cie brand. The texts punctuate her career and express inspirations and convictions; the photos - mostly taken by her - tell the story of her entire universe where colour is the master. The book consists of six booklets of around one hundred pages each, each booklet is composed on a colour theme related to the brand's paint palette. The booklets can be sold separately or together, together in a slipcase.