Boutique/Retail 2.0 - How to design and decorate a shop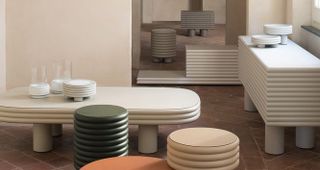 In a time when online sales are skyrocketing, the atmosphere of a shop, its merchandising, and the customer experience are becoming absolutely crucial. Shop staging and the customer pathway through the store are being reinvented: click-and-collect corners are popping up everywhere, zones focused on customization are being rolled out in many shops, and living and hospitality spaces are taking over. Boutiques are no longer just showcases for products: they place them in living settings and sometimes transform into apartments with rails, mirrors, counters, shelving, and relaxation areas where lounge chairs, footstools, sofas and cafés invite the customer to stay and hang around for a while. What's the idea? To create an intimate, Instagrammable atmosphere where visitors feel special. The experience is placed squarely at the center of retail issues and is reinventing the rules of shop design and decor. Here's a taste of it in this selection.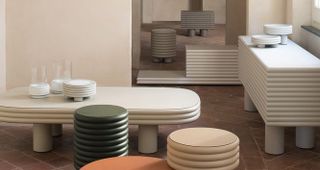 Oud four doors buffet
TINJA

Each unique shop deserves uniquely crafted products. And this is where TINJA comes in. This Tunisian project presents a collection of limited-edition objects and furniture. Everything they offer is handmade. It's contemporary handicraft that will help your boutique stand out. We love the Galet lounge chair, which has real cachet.
Seam by Seppe Van Heusden
SERAX OLD

The multifunctional Pawn collection from Marie Michielssen for SERAX is a stunner. Depending on a shop's specific needs and staging, these tables and stools can be turned into columns to display pieces and draw customers' attention.
Hanger Jacket/shirt in Leather
SOL & LUNA

Hangers that provide a touch of elegance all along the rails are not just a dream! Created by María Martínez Fresneda, these hangers are lined in leather, to present jackets in total style. They are available in five shades: brown, black, red, orange, and taupe.
Fox 3-Seater
366 CONCEPT

What's a real luxury in a boutique? Being able to sit down comfortably for a moment. And it's even better if it's on designer seating. The designer sofa from 366 CONCEPT-RETRO FURNITURE is a reissue of a style created in the 1960s by Polish designer Henryk Lis. This is an iconic piece for a unique boutique!
Rico 2-Seater
FERM LIVING

Mirrors are not just for fitting rooms…they're popping up all over boutique walls, creating a masterful reflective effect that opens up the space. FERM LIVING transforms the functional mirror into decorative wall decor with the Pond series and its organic shapes.
Timber chair
KANN

Rails are being reinvented and are becoming more design-oriented than ever. At KANN, delicately curved steel tubing becomes a valet. The main concept from this Lebanese design studio? Designing a minimal piece that highlights the garment, more than anything.
Etage by Destroyers/Builders
VALERIE OBJECTS

All over boutiques, shelving units draw customers' attention to carefully selected pieces. At VALERIE_OBJECTS, they're all about curves: their organic, almost sculptural shapes make them into superb showcases for small objects.
Elke bench
OTTIU

Nothing is better than a footstool for setting down one's items in a fitting room, resting while waiting to pay for items, or creating a relaxing area within a shop. The Elke ottoman, with its velvet padding and brushed brass detailing, is sure to stylishly fulfill these functions.
CANDLES
Q DE BOUTEILLES

A boutique's ambiance and identity are also defined by its aromatic signature. Scent marketing is becoming an entire field of its own. This is where Q DE BOUTEILLES candles manage to stand out from the rest, with their slightly nostalgic, always comforting aromas.
Table by Constance - Edition "Volants recyclés"
DIZY

This uniquely designed shelving unit in certified wood and metal Made in France is infinitely adaptable and perfect for all types of staging. It includes three dividers that can be placed horizontally or vertically over two or three levels, as well as two pivoting, adjustable boards that lend it a unique look.
SCALA TABLES & CONSOLES
GIOBAGNARA

With its unique identity and multiple uses, we present the Scarla collection from Stéphane Parmentier, with lines inspired by the "stacked" shape of typical Italian building foundations. This selection of stools, side tables, and sideboards will give any boutique a truly unusual look.
Design rug "Ottoportico"
PORTEGO

Hooks are taking over boutique walls, to hang bags, scarves, or even necklaces. The ones created by Davide Aquini celebrate Venetian craftsmanship and are encircled by a beautiful brass border. These are coat hooks with character.