Eva Leone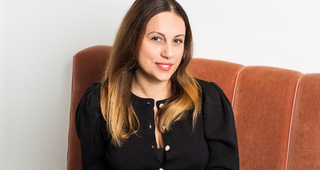 Eva Leone is studio director of Lawson Robb, an interior architecture, interior design and yacht design studio. She selected her favorite products for MOM. The final result is a contemporary style that juxtaposes raw and refined, all while celebrating colour, and seamlessly blending diverse languages into an unexpected whole.
SCALA TABLES & CONSOLES
GIOBAGNARA
This line of leather covered furniture and objects were inspired by the "stacked" form often seen at the base of some buildings in Italy, as well as the famous heel of Salvatore Ferragamo. This selection of stools, nightstands and sideboards have an identical recurring pattern, superimposed and highlighted by deliberately thick legs, giving a delicate graphic line. Now, with a change in perspective, the same shapes and proportions become centerpieces, boxes, lanterns and vases. Wallpaper* Design Award 2018 Winner
ARIZONA Mirror
INSIDHERLAND
DIMENSIONS Height. 115 cm. Width: 84 cm Depth. 4 cm. 4 cm PRODUCT DETAILS Mirror in bronze, polished brass and marble estremoz. Antique mirror, bronzed brass and estremoz marble. PRODUCT OPTIONS Other metals, marbles, wood veneers or lacquered in any Ral Classic colour finished in matt, semi-gloss or glossy varnish.