Eva Leone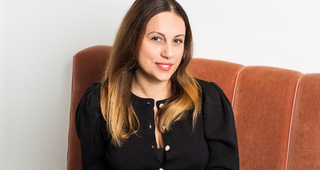 Eva Leone is studio director of Lawson Robb, an interior architecture, interior design and yacht design studio. She selected her favorite products for MOM. The final result is a contemporary style that juxtaposes raw and refined, all while celebrating colour, and seamlessly blending diverse languages into an unexpected whole.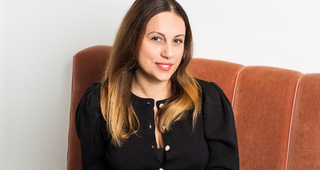 101 COPENHAGEN
COBRA VASE
Cobra celebrates the the absurd and playfull silhouettes of the Cobra Arts Movement of the 1960s. The Cobra collection challenges the balance between soft and consistent shapes, playing with human silhouettes in contrast to architectural building components. Hand glazed natural product therefore the colours may variate. Not waterproof safe. Designed by Kristian Sofus Hansen & Tommy Hyldahl
POLE TO POLE
High Five Chair Dark Grey
Is available in seven trendy velvet colors: Sand White, Black, Pink, Copper, Grey, Emerald Green and Ocean Blue. With a seat height of 48cm it is suited for any dining table. Product Size: Width: 60 CM Depth: 53 CM Height: 75 CM Seat Height: 48 CM Arm Height: 75 CM Key Information: Suitable for Dropshipment Assembly required Original packing 2 Pcs / 1 boxes Minimum order Qty 2 Pcs Not fire retardant Product Materials: Seat: Ply wood and metal frame / Foam 25Kg/M3 / Fabric Legs: Black powder coated aluminium
GASY RUG
Mini Pebble Rug
This mat is made of sisal, it is completely handmade. For the MoM collection, it is available in 5 harmonies of colors.
GIOBAGNARA
SCALA TABLES & CONSOLES
This line of leather covered furniture and objects were inspired by the "stacked" form often seen at the base of some buildings in Italy, as well as the famous heel of Salvatore Ferragamo. This selection of stools, nightstands and sideboards have an identical recurring pattern, superimposed and highlighted by deliberately thick legs, giving a delicate graphic line. Now, with a change in perspective, the same shapes and proportions become centerpieces, boxes, lanterns and vases. Wallpaper* Design Award 2018 Winner
INSIDHERLAND
ARIZONA Mirror
DIMENSIONS Height. 115 cm. Width: 84 cm Depth. 4 cm. 4 cm PRODUCT DETAILS Mirror in bronze, polished brass and marble estremoz. Antique mirror, bronzed brass and estremoz marble. PRODUCT OPTIONS Other metals, marbles, wood veneers or lacquered in any Ral Classic colour finished in matt, semi-gloss or glossy varnish.
COVET HOUSE
MARCO
A dining chair part of the Marco collection, this mid-century piece is the ultimate chair for a luxurious dining room ready for a feast.
FERM LIVING
Post Coffee Table
Inspired by brutalism, the Post Coffee Table plays with volumes to present a simple, round coffee table with intricate details that draw you in. Made from FSC™-certified wood, the table has three robust cylindrical legs, while the tabletop features an elegant, unique oak veneer paneling in the shape of spherical sectors, achieved by a technique known as marquetry. Use multiple tables in different sizes to create a cohesive landscape in two levels.
When Eva Leone selects objects for an interior, she has an open-minded approach lead by my passion for mixing contemporary pieces with vintage and oriental ones. From MOM's offering, she chose the 'Marco Chair' for its bold reinterpretation of vintage lines, 'Le Asian Heritage Wallpaper' for its antique oriental feel and the 'High Five Chair' for its playful shape. She likes the fact that the objects' colour palettes are neutral but bold, such as the earthy colours of the 'Hebe Lamp' and 'Arizona Mirror' which use natural materials in their raw and organic forms. This is also evident in 'Scala Collection' which she also loves for its upholstering of unusual shapes using high end leather, and 'Guggenheim Big' for its elementary shape and 'Mini Pebble Rug' for its uniqueness. The final result is a contemporary style that juxtaposes raw and refined, all while celebrating colour, and seamlessly blending diverse languages into an unexpected whole.