In the mood to party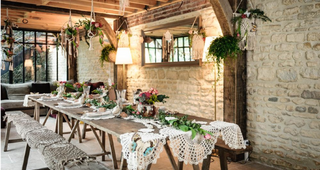 A birthday, an evening with friends, New Year's Eve…There are so many occasions to get together and celebrate. Decorations, special foods, and gifts all transform the home into a festive space!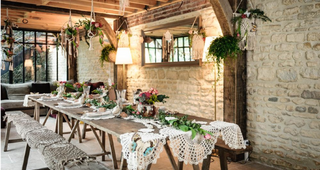 ARTYFETES FACTORY
deco FOLK
A colorful folk and macrame universe for lovers of interior design and for all your events of the year! A mix of ethnic and kinfolk decoration for a style inspired by folklore! A little macrame, pretty flowers and an illustration of the popular Marie : "My Lovely Thing" ... what better for a universe that will delight all your guests? At Artyty, the whole team is totally crazy about this pretty colorful range on kraft ... WE LOVE IT!
JOLIPA
ROSE BOHEMIEN
Everything is better in pink! Thanks to J-line's "Rose Bohémien" collection, you can now also style your favourite room in this soft colour. But make no mistake: a few rougher items match perfectly with this feminine look. Cactuses can be a real eye catcher here. You can get them in all kinds of shapes. And why not even get started with a terrarium? Or play with some rough wooden boards for your table setting. Simply, rosé all day!
PLUMBUM
Tchin
Tchin, a burlesque and contemporary-style liquor serving table, is multipurpose: the display, consumption and hiding of jugs of liquors. Three backlit trays are layered to shape the piece of furniture and highlight the liquors. Tchin conceals them behind a curtain of translucent tubes, creating transparencies and colors games. During a tasting, choosing a bottle sets the tubular curtain in motion, creating a light chime ambiance. Inside a hotel room or next to a fringed tub chair, Tchin brings to life a singular moment of taste, visual and sound
VERONIQUE JOLY-CORBIN
Wall installation of illustrated plates PARIS EST UNE FETE
7 plates in Limoges porcelain of different sizes 2*D26cm, 1*D21 cm and 4*D19 cm, associated around the theme of PARIS in the time of the Roaring Twenties, inspired by Ernest Hemingway's book "A Moveable Feast". Texts and images drawn on porcelain with calligraphy pen holder. In black and white with copper-colored cotillons to make the link. Unique pieces, Made in France, Hand painted Machine washable plates that can be used in tableware
ARTYFETES FACTORY
BABY SHOWER
The baby shower is the trend of the moment, it is a party that celebrates the future mother and her baby to come!! It usually takes place in the last trimester of pregnancy. These baby shower ranges too mimis blue and pink will be perfect to celebrate the future birth of your little bit... Teddy bears, bodysuits, little bows with touches of gold glitter, we are completely gaga in front of these little beauties!
FUSIONTABLES
Fusiontables - Wood-Line collection convertible dining pool table
Is it an impossible challenge to mix nature and design ? The fusiontables pool dining table concept is addressing this challenge by mixing a sleek and minimalistic design with natural components. Its authentic and timeless character is bringing a special Fusiontables brand to your home. Nature lovers who are passionate about wood material will love this new range, blending seamlessly into natural and zen spaces but also complimenting the user's way of life. Enjoy staying at home and having a pool table with a real modern style.
HELVETIQ
Grand Tour Europe
GRAND TOUR EUROPE is the game for travel lovers. Players answer questions using their countries cards, but no need to be a know-it-all to win. The two types of questions, speed and knowledge, make the game fun for everyone. Answer questions correctly and more from country to country to win game tokens end earn victory points, before your opponents do. The player with the most points at the end of the game wins.
ORFÈVRERIE ROYALE
Articulated candelabra 5 lights or 5 soliflores
Completely handmade, this goldsmithwork fits all tables. Designed as a candelabra to accommodate 5 candles, they can be replaced with 5 soliflora vases (included)
LABEL'TOUR
Retro mug
Retro mugs have been imagined and designed with love by our creative studio. - Vintage enamelled metal mug - 6 colors - Created and printed in France - Height: 8 cm/Diameter: 8 cm - Capacity: 33 cl Illustrated in France by Label'tour