Brigitte Kahane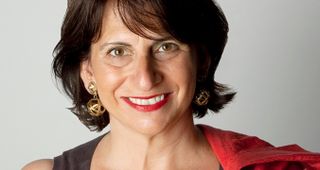 After a number of years heading up major design firms, Brigitte Kahane has been practicing EcoDesign Innovation for big corporations and SMEs for over 15 years now. She has, for the past two years, acted as a member of the Panel that selects exhibitors for the "Sustainable Pathway" at Maison&Objet. Discover her product selection!
THE BELGIAN TOWEL - Laguna Verde
LIBECO HOME
The first new Belgian Towel has an ecru ground and black and old rose stripes running across the top and the bottom of the towel. The second Belgian Towel has sage and old rose stripes sitting on an ecru ground. The pillow and the pouch pull stripe inspiration from the towel. Available as fouta (110x180cm), guest towel (55x65cm), small fouta (35x50cm), pillow cover (50x50cm) and pouch (23x16cm).
CASAGAMI +
LITOGAMI
It recharges at daylight to bring a multicolored light touch in your home. Easy to assemble, designed to be decorated by all the family, Casagami + is powered with a new ecological photovoltaic film. Casagami + is a decorative object, educational, and fun that talk about sustainability values..
Glasses of recycled wine bottles - set 2
ORIGINALHOME 100% ECO DESIGN
These glasses are made from empty wine bottles, collected at hotels, restaurants and bars in Zanzibar, Tanzania. Wine bottles are waste from the tourism industry. Certified Fair Trade according to the WFTO. Glasses are sold in a set of 2.