The French lifestyle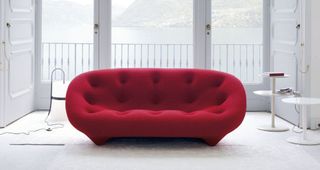 The French way of life means taking the time to savor and celebrate, in a warm, friendly atmosphere. Daring, zest for life, and a focus on pleasure... Discover a selection of furnishings that are full of personality, yet easy to live with.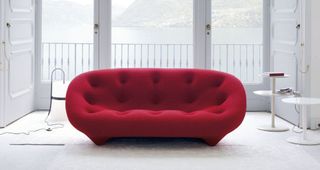 LIGNE ROSET
PLOUM
Ploum's comfort is based on an exclusive combination of two materials: a stretch coating and a super-soft foam. The extreme flexibility of the contact combined with a welcoming shape make Ploum a real nest: all positions are possible, with the back, arms and head finding the same fluffy contact in any part of the seat.
FERMOB
Luxembourg | All the collection
The elegant, comfortable, mobile steel chairs first appeared in the Jardin du Luxembourg in 1923, giving passers-by somewhere to relax and while the time away... Over the decades, they came to symbolise the French way of life. And in 2003, they were given a facelift by designer Frédéric Sofia, who added an aluminium frame to bring them more in tune with the time and make them even more comfortable, while staying true to the original design. The Luxembourg range is now bigger than ever, boasting more than 20 different products.
HOME SPIRIT
NOMAD SOFA
NOMAD sofa generous by its style! Find the great comfort of the feather. Create the composition that will fit your interiors, whether it is an armchair, a sofa or a corner several sizes of which are available. Available sizes: - 3 places: 190 cm - 5 places: 220 cm - 6 places (in 2 structures): 246 cm - Armchair XXL: 130 cm - Pouf: 52x105 cm - Corner compositions
DIZY
DESK by Adèle
Le bureau complet by Adèle is a desk integrating all key elements for an efficient and confortable work : a lamp, a drawer, a magnetic separator, a pencil jar... A unique, robust and practical desk with flawless finish. And as DIZY DNA is creativity, feel free to transform this product by adding other DIZY elements. - Steel | Made in France - Wood | from sustainable forest (PEFC & FSC) - Frame made with Solid Oak - Birch plywood trays with Oak veneer
DUVIVIER CANAPÉS
Chair SOPHIE
An iconic model of the Duvivier Canapés collection, the SOPHIE armchair affirms its character with its remarkable and refined line. More contemporary with metal legs, more conventional with wooden legs, the SOPHIE model enriches its elegant line with the Couture style quilting of the back cushions and the feminine curves of its armrests.
EXTRANORM
Opinion
Opinion believes what he says and sees what he believes. Opinion is a duo of cups sold in a gift box of 2 cups and 2 saucers. Extra white Limoges porcelaine with black décor. Made in France
LAFUMA MOBILIER
ANCÔNE extendable table
More ingenious for even more conviviality, the ANCONE TABLE, 100% made in France, is extendable to accommodate up to 10 guests. The numerous technical specifications developed by the brand make this table essential for your indoor and outdoor meals without being bulky on a daily basis! This ultra-functional dining table, inspired by Bauhaus, with its minimalist design and refined finishes, will perfectly accompany all your moments of happiness every day.
GAUTIER
RONDO table
The RONDO table is distinguished by 8 finishes and 2 legs (black or aluminum).It has a 45 cm butterfly extension allowing it to expand its capacity from 4 to 8 people! Its sober and chic design easily adapts to any interior style!
ALKI
Zutik organizer
Zutik is a complete system organized along a horizontal solid oak beam. It can be reconfigured over and over again, both in length and composition, so it perfectly adapts to both large and small spaces as well as a variety of surroundings. To find out more: http://alki.fr/en/product/7065/Zutik-Wall-System/
GALEA
COFFEE TABLE SALSA
Base in black epoxy lacquered metal, MDF top covered with black and gold Jade ceramic
HARTÔ
HÉLÈNE
Hélène is an extendable table in solid oak designed by Pierre Dubourg. Thanks to its extendable panels, ten people can have a seat around Hélène.
MAISON DRUCKER
Parnasse chair
Chair weaved with your colors, stackable, robust and light, loved by the restaurants and hotels industry, the Unavoidable drucker chair dresses terraces all over the world.
ARDAMEZ
ARDAMEZ • TRADITION Enamel bistro table
THE ENAMEL BISTRO TABLE BY ARDAMEZ THE AUTHENTIC FRENCH BISTRO TABLE This enamel bistro table, silkscreened by hand and circled with copper, brass or stainless steel, is perfect for use in restoration or for a house decoration. The quality of material used makes a sturdy table for an exterior or an interior use (UV and corrosion resistance). The enamel bistro tables by Ardamez, a furniture build to last.
CINNA
OTTOMAN
Ottoman, c'est le charme oriental fait d'inspiration marocaine, de confort et de bien-être. Les fauteuils se déclinent en version fixe ou pivotante.
DAVID LANGE
Pure_Coffee Table
Continuing the Pure collection, this coffee table adopts refined curves and an airy design that will bring modernity and lightness to your living room. The precision of his songs means that the light is scattered throughout the table. The sides have been hand shaped in our manufacture. Coffee table made entirely of transparent acrylic resin with a thickness of 12 mm, composed of a fixed bottom top, holders-mortise assemblies by invisible gluing. Horizontal leather headband size 35 x 13 cm on top top top in 5 colours to choose from
PERROUIN 1875
Stool GALA
Stability, comfort and elegance for this stool also available in a trimmed back version. Available in chair and Bridge
PLUMBUM
Tchin
Tchin, a burlesque and contemporary-style liquor serving table, is multipurpose: the display, consumption and hiding of jugs of liquors. Three backlit trays are layered to shape the piece of furniture and highlight the liquors. Tchin conceals them behind a curtain of translucent tubes, creating transparencies and colors games. During a tasting, choosing a bottle sets the tubular curtain in motion, creating a light chime ambiance. Inside a hotel room or next to a fringed tub chair, Tchin brings to life a singular moment of taste, visual and sound
RED EDITION
Floating Armchair
All the elegance of the Floating armchair resides in its delicate wooden frame where the armrests elegantly forms into graceful legs. The overall design feels light and airy while ample seating comfortably co-coons you. Available in natural and dark wood, it brings an updated mid-century vibe to any living space.