Elegance & creativity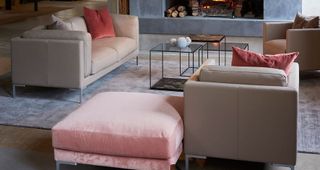 From classic chic to contemporary design, this French selection blends savoir-faire with creative flair.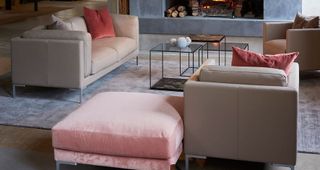 DUVIVIER CANAPÉS
Sofa ALBERT
With its sleek yet generous design, modern but consensual, simple but modular, the Albert collection offers the comfort and look so representative of today's lifestyles It is suitable for any interior and seduces every generation. It adapts, exists in two seat depths, consists and recomposes with ease both for the pleasures of conviviality and relaxation in calm.
PLUMBUM
Solco coffe table
Solco is a coffee table with a mirror tray revealing the complex shapes located under the main tray.
CINNA
PAIPAI
"Paipaï" or refinement in simplicity. The first creation of the Italian duo for the French publisher Cinna, the sofa (Loveseat or three seater) "Paipaï" — a name inherited from the famous Indonesian fans — seduces us with its clean look with marked lines, which evokes the simple folding of a sheet of paper. Like an origami, this new design seat unfolds to offer us a firm seat and a soft high backrest, especially thanks to multiple foams of high quality and various densities, which adapt to our different needs.
FERMOB
BELLEVIE | Lounge set
13 novelties! The Bellevie collection knows how to spoil us... Generosity has always been its main quality, with its ample and comfortable seating and a singular and contemporary design. Bellevie is now synonymous with modularity, with the launch of an outdoor lounge set, the most successful on the market. Armchair, 2 or 3 seater sofa, ottoman, bench, corner modules, junction shelves, coffee table etc... These are modular configurations infinitely, depending on the spaces and desires. A generous range offered in 24 colours for the structure and 3 fabrics for the cushions.
GALEA
ARIANA COFFEE TABLE
Coffee table with base in black epoxy lacquered metal, top tempered glass thickness 10 mm or Arabescato ceramic 3 mm glued on glass
GAUTIER
SETIS Tables
With Setis, Gautier has designed an ingenious, multi-purpose table that takes a fresh look at how you organise your living/kitchen space, entertain your friends, eat, work and even manage your storage. An elegant, stylish collection that can be adapted to our different lifestyles.
MOISSONNIER
Wall-unit for bathroom
Gris couture lacquered beech wall-unit, with low elements, washbasin cabinet and woodwork with mirror for bathroom. Made-to-measure. French beech from sustainably managed forests. Cabinetmaking since 1885. Made in France (Ain) on demand (delivery time of 8-10 weeks) .
MAISON DRUCKER
Medicis Headboard
Headboard in lacquered bark rattan and flat weave in natural fiber and Rehau.
OBJET DE CURIOSITÉ
Our insect collection
Here is a part of our collection of insects, more are available on our website.
HARTÔ
Carmen Pendant light
Carmen's graphic lines are captivating thanks to its pleats and size. Design studio PaulinePlusLuis had a dancer in mind when designing this pendant light for HARTÔ. The repetitive pleats of its skirt bring rhythm to the space it finds itself in. Carmen does not go unnoticed when she is present in a room. Embellished by her luminous disc, she has been designed according to textile experimentations.
LAFUMA MOBILIER
LABYRINTHE Collection
LAFUMA MOBILIER signe une collection exclusive avec Jean Paul GAULTIER par LELIEVRE Paris.Fidèle à ses savoir-faire dans le travail du tube métallique et de la toile, LAFUMA MOBILIER édite deux de ses produits iconiques en collaboration avec un grand nom de la création et de la mode française.
LIGNE ROSET
COPLAN
The Coplan sideboard has been a great success since 2008. The opening mode of its two coplanar doors allows you to have only two sliding doors on a sideboard of length 196 or 226 cm instead of 3, 4 or 5 swing doors. The aesthetic is obviously gaining in purity of lines. Several lacquered or veneered finishes including a beautiful walnut veneer with fern motif at 45°.
ALKI
Kuskoa Chair
The Kuskoa chair is composed of a delicate upholstered or wood shell resting in oak wood trestle. The shell can be in leather, both sides covered in wool or back in wood, front in wool or leather. To find out more: http://alki.fr/en/product/2832/Kuskoa_Chairs/
ARDAMEZ
Bistro table in marbled ceramic - Haussmann line • ARDAMEZ
The Haussmann Line is ideal for establishments looking for measured theatricality, and gives ceramic a place of honour. But before being adorned with Ardamez's signature strapping (and the world of the bistro), this beautiful material gains in prestige thanks to a cutting-edge printing technique that allows it to be embellished with a true-to-life veining.
EXTRANORM
Voilà la Femme
Voilà le Femme collects what is shining. Little porcelaine tray ideal for coffee or tea. Extra white Limoges porcelaine with fine gold gilding. Made in France
PERROUIN 1875
Driver KAGO
Inspired by the Japanese palanquin made of braided bamboo, the solid beech structure forms a nest with high resilience foam capons adorned with fabric, woolen cloth or real sheep fur that gives it a cozy comfort. Also available in chair version.
RED EDITION
Stanley sofa
Avec ses lignes Sci-Fi rétro le nouveau canapé Stanley vous embarque, dans la générosité de ses volumes, direction les 70's pour un voyage ultra confortable. Il joue la séduction avec son caractère audacieux, son design bien carrossé et sa silhouette soulignée d'inox et de palissandre. Pour un drink en petit comité, des instants à plusieurs de détente cool ou pour se lover en solo entre ses coussins capitonnés, le canapé Stanley se module à souhait et se vit en mode lounge. Tapissage avec les tissus en collection ou chez l'éditeur de votre choix.