Pantone : Classic blue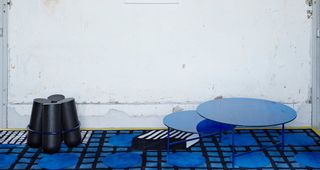 Selection M&0
Elegant, unchanging, and timeless, Pantone 19-4052 Classic Blue is the color of the year to embrace today. Inspiring serenity, confidence, and commonality, this shade of dark blue reminds us of the twilight sky and fosters concentration, a color to take refuge in.
Recycled glass vases
URBAN NATURE CULTURE AMSTERDAM
Circularity comes to life in Urban Nature Culture's recycled glass vases. They embody a second chance – with glass waste smashed and melted back together – formed to the design. They make great for a great eyecatcher in any home!
Incredibly Lucky Sculpture
GALLERY CHUAN
Vous êtes une étoile montante, vous menez la voie vers l'innovation.Vous êtes incroyable et incroyable !Le succès est toujours de votre côté. Matière : Bronze Edition limitée : 199
The Night BiBrond 240 ml
ELHEE
240 ml (Available in 150 ml and 240 ml) Anti-colic physiological nipple — Flow M From birth Healthy, sensory and design, BiBrond Elhée in medical silicone, stands out for pure lines, all in roundness, softness and flexibility to offer you a tender and privileged moment with your baby. Designed with the highest standards and health requirements for the little ones, 0% BPA, BPS, etc. Here in the Night version, an elegant night blue bottle that knows how to stand out.