Organic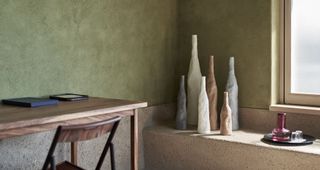 Selection M&0
The organic trend is all the rage for interiors. Inspired by the work of ceramic artist Valentine Schlegel, designers and interior specialists are freeing up shapes and bringing objects to life: lines curve and undulate, all in mineral, natural materials.
BOTELLA, CAMPANA, LUNA, SIMPLE pendant lights. Designed and handmade in France
MONA PIGLIACAMPO . ATELIER SOL DE MAYO
Our felted lamps are a unique blend of traditional craftsmanship and modern design. Handmade in France, they are created using the finest quality of merino wool. That ensures a high level of quality and durability, making our lamps not only beautiful but also long-lasting. The natural texture of the wool adds a warm, cosy touch, while the sleek lines and subtle elegance of our felted lamps add sophistication to any space. To place a MOM online order, please select XXL size if you want to order the SIMPLE model, XL to order BOTELLA, M to order CAMPANA, and S size to order the LUNA model.