Home sport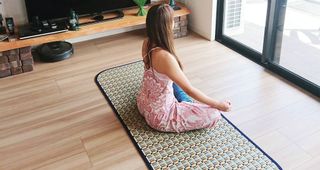 During this confinement period, staying fit is crucial. Whether you have specific fitness equipment at hand, or you're simply using everyday objects in a new way, there are so many solutions to keep living the sporting life from the comfort of your own home! As the lockdown continues, consumers are adopting new habits that are likely to last, thus generating new needs that will need to be fulfilled.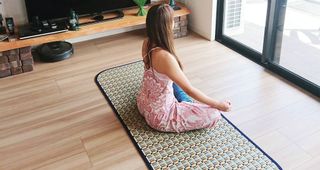 CICLOTTE
Ciclotte exercise-bike in carbon fibre
Thanks to its line, result of a deep formal research based on ergonomics and on the essential, Ciclotte is at the same time a collection of fitness equipment and a decorative pieces of design, which fit perfectly into the most demanding context of our daily lives: home, office, gym, yacht and hotels suites. Ciclotte is designed to faithfully reproduce the dynamics and performance of the biking on the road while meeting the demands of high intensity aerobic gymnastics workouts, such as spinning, and offer the latest high-tech solutions for an immersive experience with mobile devices.
GAI+LISVA
Shanti Leggings
Make your yoga sustainable with a beautiful pair of Shanti Leggings made of 100 % recycled polyester. The unique seamless design, high waisted fit and rib details allows you to stretch more than ever before while the leggings follow and support your every move. Our recycled polyester is created by 100 % leftover fabrics. The fabric is called Q-NOVA and is an Italian material that meets among other the Global Recycled Standard and the EU Ecolabel. Reusing polyester in our yoga clothing will not only help keep plastic out of the oceans but also save natural resources.
NEXT FRANCE
Bobble , Gourdes filtrantes et infuser
Avec plus de 20 millions de Bobble vendues, Bobble est aujourd'hui une marque reconnue mondialement. Objet d'usage quotidien, accessoire de mode, Bobble est dotée d'un filtre naturel à charbon actif, qui permet d'enlever le goût de chlore de l'eau du robinet. La durée de vie d'un filtre est de 300 remplissages, soit 150 litres d'eau. Bobble, un geste économique et écologique.
AIRBORNE
BENCH PASTILLE
This is our new collection designed by At-Once studio. ITS PRINCIPLE Colorful, lightweight, stackable, simple, comfortable and made in France. THE BENCH It is a small bench for two, a large pouf for one, a large footrest, a small piece of furniture extra! It is perfect for living room, bedroom, office, conference room. It is an indispensable little companion to ask according to your desires.
WATERROWER | NOHRD
TriaTrainer 3-in-1 musculation bench
The TriaTrainer is a 3-in-1 bench with a minimalist and functional design. Versatile, it combines elegance and robustness and fits into any type of environment as a fitness device for muscle building sessions or as a booster seat in an interior.
TAKECAIRE
FOLIAGE: Plates, Dishes, Cups, Pots etc...
"FOLIAGE" in honor of the sublime decorations with which they are adorned. A traditional Egyptian ceramic made with lathe on foot and hand-painted.The collection was designed in close collaboration with the young artisan potter Sameh of the 3rd generation of potters: one of TakeCaire's partner craftsmen, trained at the now famous Fayoum School, located in a small village in an oasis bordering the Nile Valley. The series is available in dishes, bowls, plates and decanters."Foliage" is an ode to the lush surrounding nature.
GOZA
Yoga Sleeping Mat
Yoga Mat made from Japanese rush grass.
GIMBER
GIMBER
GIMBER is a new alcoholfree drink! The answer on your question : what to drink wen you don't want to drink. Healthy and organic, of course, this concentrated ginger meets a new market demand. This elixir is made with the finest peruvian ginger. You can find it in the most beautifil conceptstores of The Benelux, Paris, Germany, ...
TECHNOGYM
RUN PERSONAL
Run Personal is the perfect synthesis of cutting-edge technology, innovative equipment and flawless design. Imagine the gleaming reflections embracing your movement in elegance. The Live interface allows you to combine fun with exercise, and the superb lines designed by Antonio Citterio defy conventions, turning your walls into the very theatre of Wellness.
TRIXIE
Knitted toys
The knitted toy collection is a range of toys that breathe purity and is here to entertain, ease and relax newborns. These knitted toys are soft and serene, made of organic cotton with filling made from recycled materials. 
GREENMA
ORGANIC TEAS GREENMA
For nature lovers. French brand of organic teas ans infusions combining authenticity, taste and eco-designed packaging. All our products are natural, with no artificial flavors and always with whole leaves to preserve the flavors of plants and keep our promise : GreenMa, naturally good. We are very attached to the quality of the products, the respect of the flavors and the environmental impact of our packaging. Our teas are available in elegant smoked-glass jars. All our products can be bought as a refill, so you can keep your jars and refill them.