Brown is the new black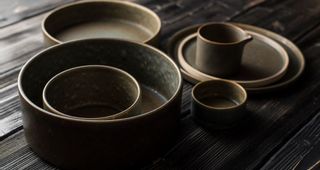 Long shunned, brown is making a comeback in design and decor. Its range of shades, deep and easy to match with, can be readily substituted for black, while adding a touch of difference, warmth, and velvety softness.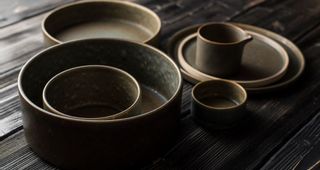 SOUL STUDIO
MAHIKI PLATES
A set based on exotic decorations, typical tones of the wild environment, green, brown, light yellow shades & boho patterns. A real introduction into a lush and wild atmosphere on the table
DAIKEN CORPORATION
MT01-CABINET BLOCK A,B,C
The collection can be combined as desired and comprises. The modular storage cabinet placed on its base recalls Charlotte Perriand's Asian experiments combining functional geometrical meticulousness and traditional materials. Perriand chose bamboo, and Levy tatami. MATERIAL : Lacquered Plywood Surface tatami color : Gold, Ash pink, Chestnut, Brown
ARTYCRAFT
Secuencia V Pillow
Wool cushion, handwoven in the Oaxaca region of Mexico. We use local natural dyes such as: pomegranate, rose, tamarind, indigotier... The raw materials are harvested according to their season making its use responsible for the environment. This know-how, coming from the Oaxaca region of Mexico, has been passed down from generation to generation perpetuating all the gestures specific to the creation of this textile: carding, spinning, dyeing and weaving
SERAX (IN THE CITY)
Sicily vases by Ottolenghi
The creative collaboration between celebrated British-Israeli chef Yotam Ottolenghi and his good friend, artist Ivo Bisignano, led this time to four exuberant hand-painted ceramic vases. With the Sicily vase collection, they journey from the table to the outside. 'In Sicily, where I grew up, you eat at the kitchen table while enjoying the view of the colourful balconies with their magnificent flowers', says Ivo Bisignano. Sicily captures Ottolenghi's exuberant cooking style and is simultaneously an ode to the sun, colours and passion of Bisignano's birthplace.
VIPS AND FRIENDS
Sideboard Lauranne
Sideboard with 3 doors in solid oak and metal frame in black, white or copper look. The top is quartz composite and is available in white, sand, light grey, dark grey or black. The oak components are available with black, natural, walnut or wengé finish. Each compartment has a shelf inside which can be removed.
GIOBAGNARA
CHRONOS WATCH WINDER
Leather-covered structure. It is sufficient to apply a slight pressure to detach the rotating part, which is provided with a watch strap extender. It works with 2 AA batteries. Multiple rotation settings: clockwise, counterclockwise or alternating. Chronos operates on a basis of gentle rotation, ensuring a consistent movement over a longer period of time that won't over-wind one's watch.
KASANE
KASANE Wall Decoration
"Kasane" est une décoration murale, faite de matériaux durables qui sont utilisés au Japon depuis un millénaire.Notre artisan a créé des panneaux de bois « Kasane » grâce aux techniques de couverture-toiture traditionnelles qu'il maîtrise.Sa texture unique donne un dégradé naturel qui crée un intérieur doux et plein de poésie.L'atmosphère riche et luxueuse que vous pourrez créer pour vos clients va les ravir! La tradition des extérieurs revisitée pour des intérieurs néo-classiques et modernes..
ARTYCRAFT
West Coast Dark Blue Outdoor Rug
Tapis outdoor West Coast. Ce tapis est inspiré des tapis tufté en laine. Ces tapis sont adaptés pour des projets résidentiels et hôteliers.PET yarn est le nom de la résine utilisée pour produire les bouteilles en plastique (polyester). La fabrication de cette fibre, appelée Pet yarn ne nécessite pas d'avoir recours aux ressources naturelles comme le pétrole, consomme peu d'énergie et émet moins de CO². Sa résistance aux conditions climatiques est excellente,