Seaside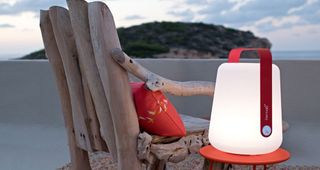 It's time to sail away! The sea, in its infinite beauty, is synonymous with pleasure and fun. This living environment, with its kaleidoscope of light and color, is a never-ending source of inspiration. So let's set a course for creativity!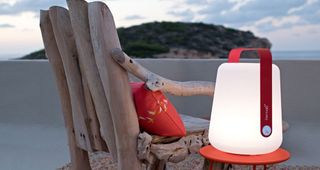 FERMOB
APLÔ | Lamp & accessories
AMore than a lamp, APLÔ is an ingenious lighting solution that is both autonomous and multi-functional. The APLÔ light can be handheld as a portable version, just like a torch. It can be placed on the table as dinner party lighting, suspended thanks to its custom-made strap, or fixed to a wall thanks to its similarly-designed light fixture. The APLÔ transforms into a table lamp thanks to its magnetic base, allowing it to be installed in all directions on steel shelves. The APLÔ lamp and three accessories for an endless range of lighting solutions.
PIMENT DE MER
BUCKET BAG
Bucket bag in toweling 300g/m2, padded. Size : 37x23cm.Waterproof polyester padding. Inside patch-pocket. 2 detachable handles with claps. Beach bach or city bag. Machine washable at 30°. Exists in 10 colours. Made in France
INOMO
Square Table
A table ideal for your Beach Bar and by the sea area. Waterproof, Non Corrosive and Sunproof. SPECIFICATIONS / TECHNICAL PROPERTIES Length x Width x Height = 80 x 60 x 45 cm
FERMOB
BELLEVIE| Dining chair
To offer even more comfort, the dining armchair has been added to the BELLEVIE collection. Its soft and resistant polyurethane foam cushions will make any terrace feel cosy and welcoming, as if you were in the dining room of a fine restaurant, and matches perfectly with all 4 BELLEVIE tables. Practical and stylish, its 100% aluminium structure offers increased resistance to outdoor use, even on the coast, which makes this premium positioning even more appealing to hotels and restaurants.
LO CONTEMPORARY
Azzuro Table
C'est une table - c'est une sculpture. Une expérience entre matériaux, styles et couleurs.Une pièce de design entièrement personnalisable pour chaque client, unique au monde. Une pièce intemporelle avec un design puissant, qui deviendra non seulement une pièce centrale de tout intérieur, mais aussi une pièce conversationnelle. Pièce de conception sculpturale, qui est censée durer des centaines, voire des milliers d'années.Matériaux: verre acrylique, marbre.
FOS
PORIFERA Pink wall decoration
Each element is made of porcelain and decorated with metal oxides, creating a multitude of pink and brown shades, alternating matt and glossy surfaces. Sometimes adorned with tufts of tentacles, these wall plates constitute true works of art, all different from one another, like a unique and unrepeatable form of life. These decorative objects are produced in three different sizes and three different heights that allow the overlap and the modular disposal, giving life to vertical gardens that do not require any care. (The suggested retail price is referred to the composition of 14 plates)
MX HOME
Raffia effect shell outdoor cushion
Handmade in France, in St Tropez. Its summer shape will plunge you into our marine universe. The raffia spirit, the star of summer, is also available for outdoor cushions: we love these decorative cushions\ "raffia effect\": A bohemian chic spirit and an all-natural charm are found on your sofas, and in your outdoor spaces. This fabric is designed for outdoor and aquatic use. The look of raffia, without its fragility. Also available in white or turquoise fabric, and in size XL.
GUFRAM
BLOW
To decontextualize is the password for Blow. In its features we can clearly see the reference to the air mattress of the seventies, as well as its ironic charge. Comfortable and playful, Blow takes idleness to extremes; it is your lifeline against the tedious domestic life.
VANESSA MITRANI
Dish No Limit
In an illusion of diving, it is directly in the heart of the pond that we find ourselves facing a band of carp ballad. Their imposing size is spectacular and makes striking the movement of porcelain fish, which seem alive. Do not frighten them! Everything is in subtle harmony in a shades of gray and white, translucent and transparent: a dreamlike dialogue between air, water, and glass, enter a world of dreams and lightness.
LA CHAISE FRANÇAISE
La Chaise de Plage
"Do you remember your grandmother's beautiful beach chair?" With the French Brief, it has been updated with: Expanded seat and backrest for optimal comfort Two ultra-solid center hinges replacing all plastic parts. "Your grandchildren will also remember yours, we have selected durable materials made in France": Painted and anti-corrosion steel comes from Mâcon. The "Batyline" anti-UV fabric comes from Isère. This product supports local employment and is packaged in a suitable company.